The Norwegian Coastal Authority (NCA) said work to save a heavylift multipurpose ship that was abandoned off the country has been postponed until Thursday morning.
The agency said on Wednesday, two days after crew members were evacuated from the 4,200-dwt Eemslift Hendrika (built 2015), that it took the decision out of concern for safety personnel.
TradeWinds has previously reported that the NCA is planning an oil spill response action but hopes it will be unnecessary.
Two Norwegian anchor-handling tug supply vessels chartered by Smit Salvage reached the site in the early morning hours on Wednesday and seas had calmed significantly overnight. After coastguard helicopter surveillance, personnel had been deployed from shore to be lowered to the ship's deck to attach lines.
But the effort was abandoned for the time being.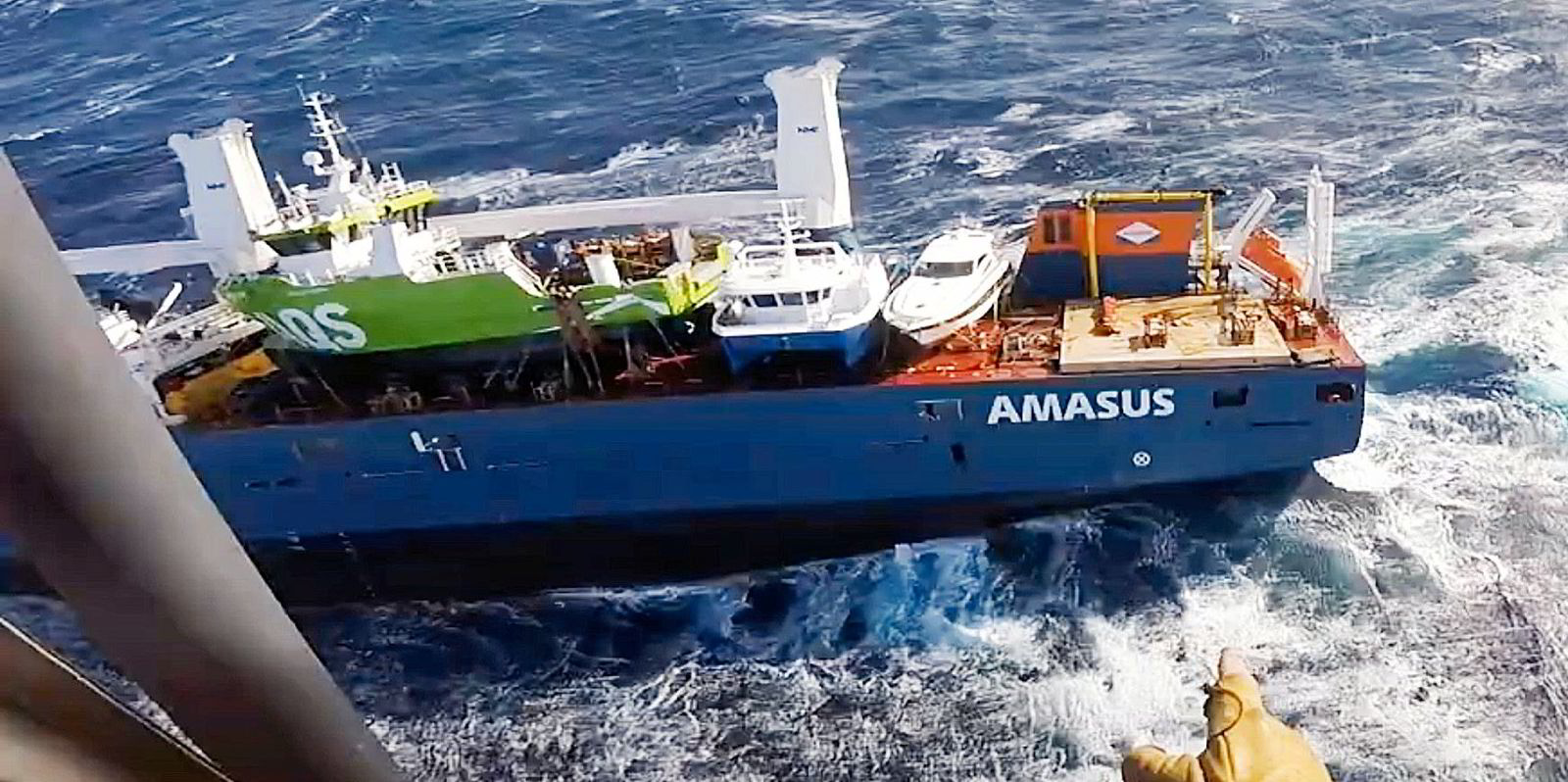 "Life and health are always the first priority during an event like this, and it has to be safe to carry out the salvage," NCA preparedness director Hans Petter Mortensholm said.
The NCA judged that the ship was unlikely to ground, based on current and wind calculations, and better weather was expected to allow work to begin successfully on Thursday morning.
The chartered vessels, Bukser og Berging's 5,440-bhp AHTS BB Ocean (built 1999) and Solstad Offshore's 32,972-bhp super large AHTS Normand Drott (built 2010), remain on the scene, together with the Norwegian coastguard vessel KV Sortland.
"We do not have the capacity to answer all media enquiries, and our internet page will be updated as soon as there is anything new," the NCA said.
Smit Salvage and Dutch shipowner and operator Amasus Shipping have declined to comment on the ongoing situation.
The heavylift MPP issued calls for help early this week after its deck crew of aquaculture workboats and yachts shifted, causing a pronounced list that became increasingly severe.
On Monday, eight of the ship's 12 crew members were airlifted from the distressed ship while the captain and three others remained to attempt to right the ship by ballast. When this failed, the four dove into the icy Norwegian Sea from the ship's stern and were rescued by a Norwegian Coast Guard helicopter.
The ship contains some 350 tonnes of heavy fuel oil and 50 tonnes of diesel.