Bunkers represent one of the most significant cost components associated with any voyage (typically ranging from 40 – 60% of total operating costs, depending on several factors). In addition to the cost implications, it also has significant impacts on your risk management strategy, voyage optimization and sustainability that must be carefully measured and managed.
While experts point towards sustainability efforts big and small like slow steaming, hybrid vessels, LED lighting upgrades and more hydrodynamic hull and bow designs, marine fuels play a massive role in curbing these emissions. Due to strengthening regulations such as IMO 2030, as well as the industry's desire for more sustainable maritime trade, more choices for marine fuels are cropping up – from biofuels to methanol, hydrogen, LPG and LNG, and ammonia. Together today, these choices represent less than 5% of the marine fuels consumed in commercial maritime trade, but recent studies indicate that's bound to change. The use of alternative fuels, in particular ammonia, hydrogen, and biofuels, is expected to expand to account for more than 30% of the fuel used by 2050. Add to this the introduction of scrubber vs. non-scrubber fitted vessels, allowing ships to burn lower quality fuel but cleaning the emissions onboard, and the landscape of how to approach the management of bunkers really starts to expand.
BUNKER MANAGEMENT BRIEF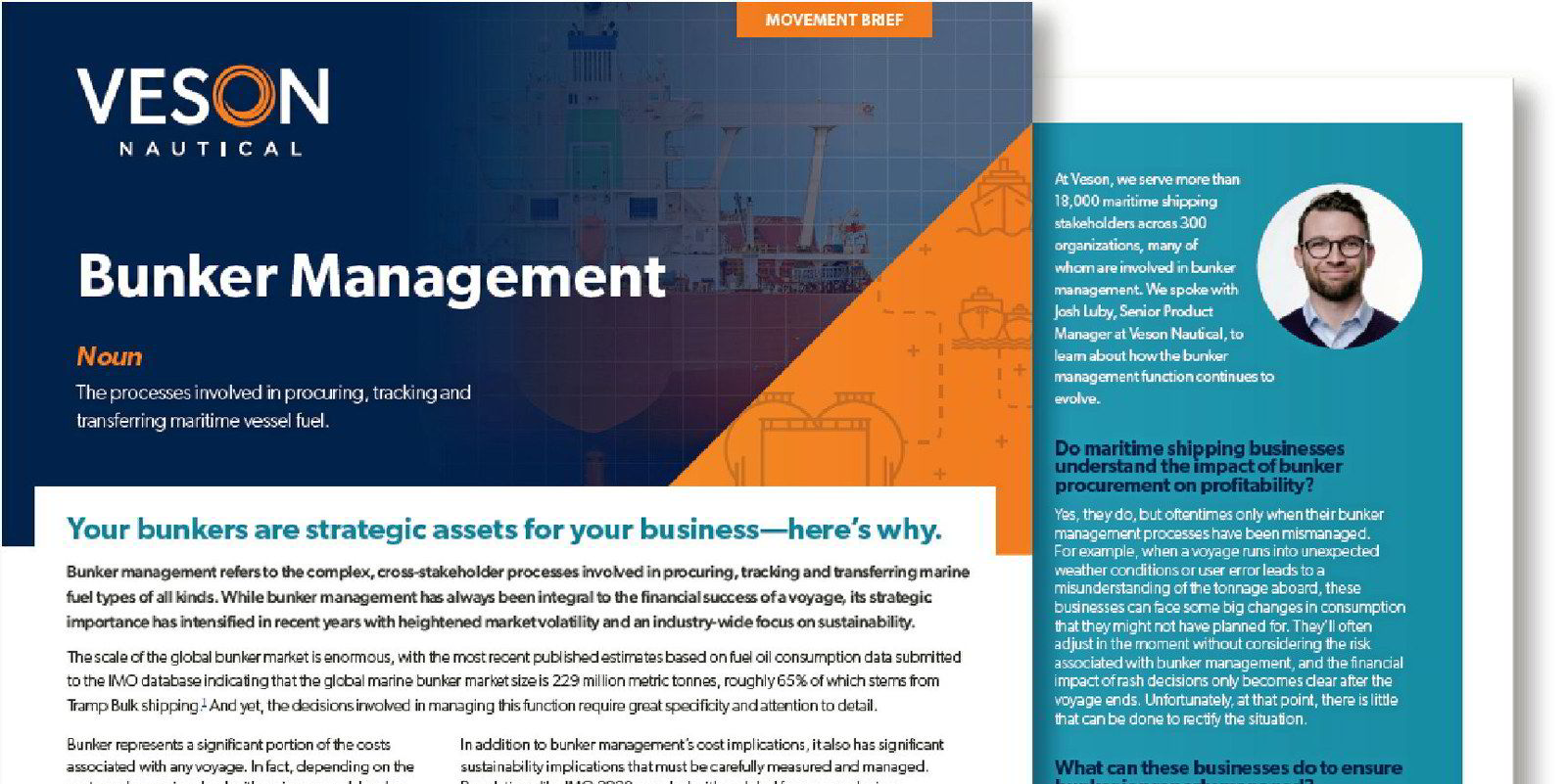 Read our Bunker Management Brief in full here
With so many rapid changes and heavy implications swirling around your bunker management decisions today, it's more important than ever to update our mindset around bunker procurement and management in order to yield financial and environmental dividends into the future.
Leveraging our experience working with hundreds of diverse organizations across the maritime industry, who have managed close to 10 million commercial voyages through the Veson IMOS Platform, we have compiled four key ways your business can embrace a more intentional, strategic, and data-driven approach to bunker management:
1. Integrate voyage management and bunker procurement.
In order to ensure the Bunker Desk has full visibility of all Bunker stem requirements, it is important that real-time visibility of all bunker requirements is available in a centralized workflow. From that point, being able to determine the most efficient and best options of where to bunker and when is key. Alignment between your Voyage Operations and Bunker Procurement teams is essential to increasing efficiency and ensuring that the bunker procurement process achieves economies of scale in the bunker purchase market. Veson clients leverage the VIP Bunker Module as well as integrations to our strategic Platform Partners to work collaboratively and size opportunities at the right time.
2. Measure mark-to-market exposure with comprehensive insights.
When market realities or voyage conditions and bunker price volatility create unexpected challenges for the commercial management of marine freight, having the right tools and processes available to assess the impact of these changes in real-time is essential so that you can take appropriate action to minimize any negative consequences, and stay ahead of the market. The integrated Voyage P&L function and Trading & Risk module assists our clients to do just that.
3. Make bunker swaps to proactively hedge against risk.
A proactive approach is key. One way to hedge against bunker exposure is to perform bunker swaps and virtually lock in fuel prices in favor of a more consistent bottom line. To accomplish this, you'll need a commercial maritime solution that can perform and account for bunker swaps and their impact on voyage and fleet finances.
4. Report on everything.
Between bunker prices, vessel performance, fuel consumption, emissions, and the ever-changing voyage P&L, the bunkering function has no shortage of KPIs to keep track of. By performing consistent and comprehensive analyses before, during, and after every voyage, your organization can achieve a more robust benchmarking and understanding of the bunker management function and proactively capitalize on opportunities for improvement.
Comprehensive bunker procurement, management, and analysis with the Veson IMOS Platform (VIP)
As maritime shipping organizations adapt their bunker management approach to handle more volatile markets, numerous fuel types, and evolving sustainability requirements, it is critical that they select a platform and partner that position them for long term success. Veson is that partner for 300+ of the world's largest buyers and sellers of marine freight.
To access more insights on bunker management, visit our Bunker Management Page. To learn about how we support data-driven bunkering decisions, visit our VIP Bunker Module page, our VIP Trading & Risk Module page, and our Veson IMOS Platform-BunkerPlanner integration page.
ABOUT THE AUTHOR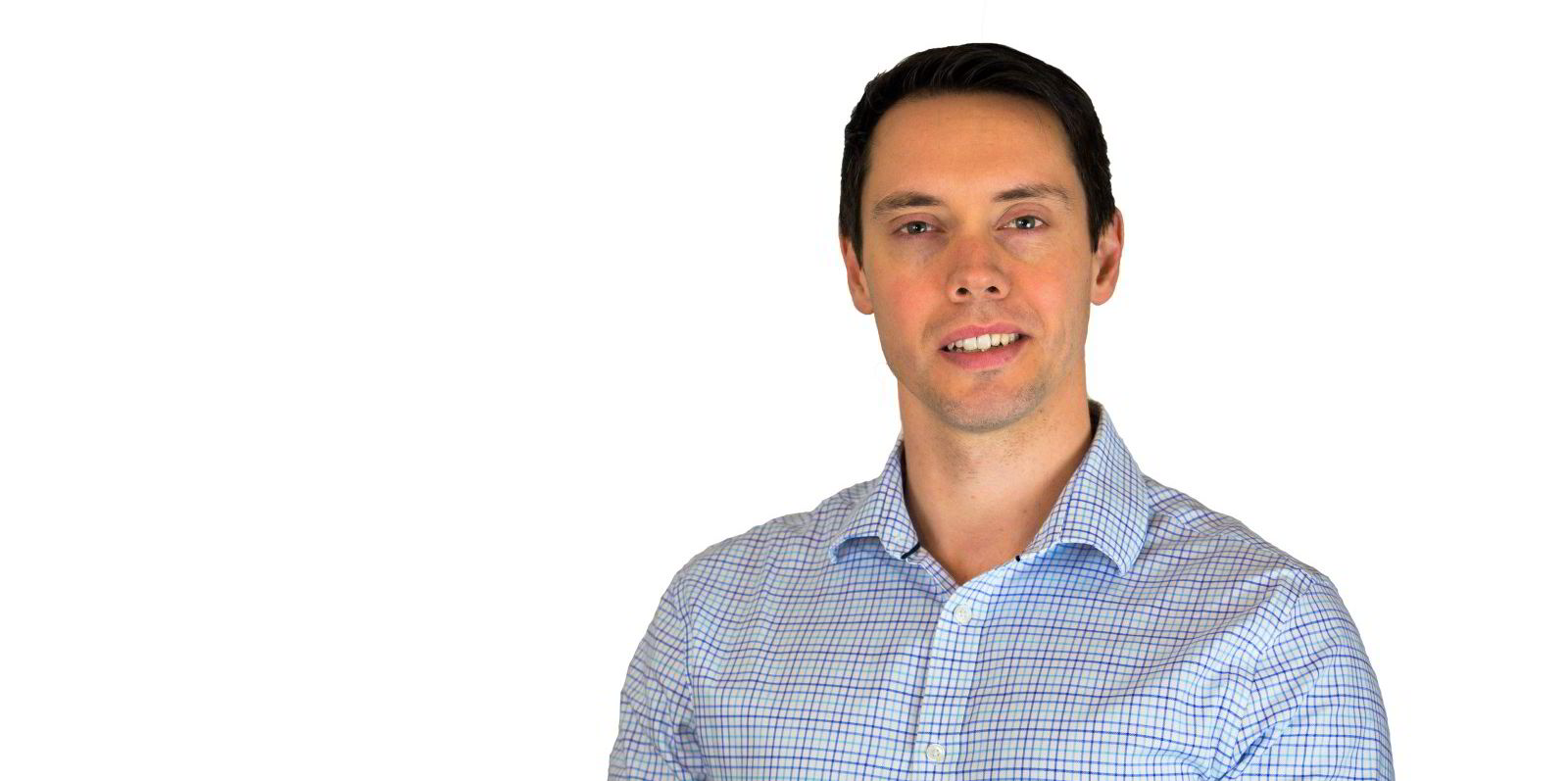 Graham has been working with Veson Nautical's distinguished client community for the last ten years, and through his role as Director of Commercial Strategy, currently works with Vesons's strategic industry partners, as well as with the Veson Product Management team and Commercial team to ensure the solutions provided to the market meet its diverse needs..
Graham brings over 16 years of international experience within the shipping maritime industry which he gained through previous roles at the A.P. Moller Maersk Group, Procter & Gamble and now, Veson Nautical. Through the A.P. Moller Maersk Group, he successfully completed the Maersk International Shipping Education (MISE) program where he cultivated extensive knowledge of the shipping industry.
Graham received his MBA with Distinction from Warwick Business School (WBS) in the U.K., and a Bachelor's degree in Economic Science from the University of Witwatersrand in South Africa.