As shipping grapples with the rapid pace of technological change, the use of modern software solutions can help owners navigate the challenges that this presents.
The growth in fleet volumes in the immediate aftermath of the 2008 global economic crash resulted in excess supply amid falling demand. Unable to control these external factors, many shipping companies were forced to focus on improving their internal operations—including their commercial activity and fleets—to strengthen their business. To do this effectively, the ability to manage and analyse vast amounts of data has become business critical and more and more shipping companies are investing in software designed to help them reduce their costs and reclaim time.
However, given the costs and resources involved, there are a number of factors decision makers need to consider when investing in software.
The case for software
Shipping companies create huge amounts of data every day. But without the help of technology, it is nearly impossible to make sense of all of it.
To interpret data and figure out how to best leverage it, many companies have established dedicated data analytics departments. As a result, they can break down existing data and use that information to predict what might happen in the future to a company's key performance indicators (KPIs). In the past, most of this work was done manually in a time-exhaustive process.
What could your company do with 500 more hours each month?
A recent Harvard Business Review study highlights the impact manual data management and poor communications can have on companies—and how much it can slow them down. Researchers found out that the average data analyst spends 80% of their time discovering and preparing data. Even after these time-consuming tasks are completed, there's still no guarantee the data can be used. This inefficient approach leads to missed opportunities and lost revenue.
So even if a company has a department for analysis and is employing chief data officers (CDOs) to interpret their data, they still need the right smart underlying technology to unlock the full power of all of it.
But it's not only in the area of analysing and preparing data that problems arise. Even everyday tasks—like the access and sharing of information—can cause huge challenges for companies.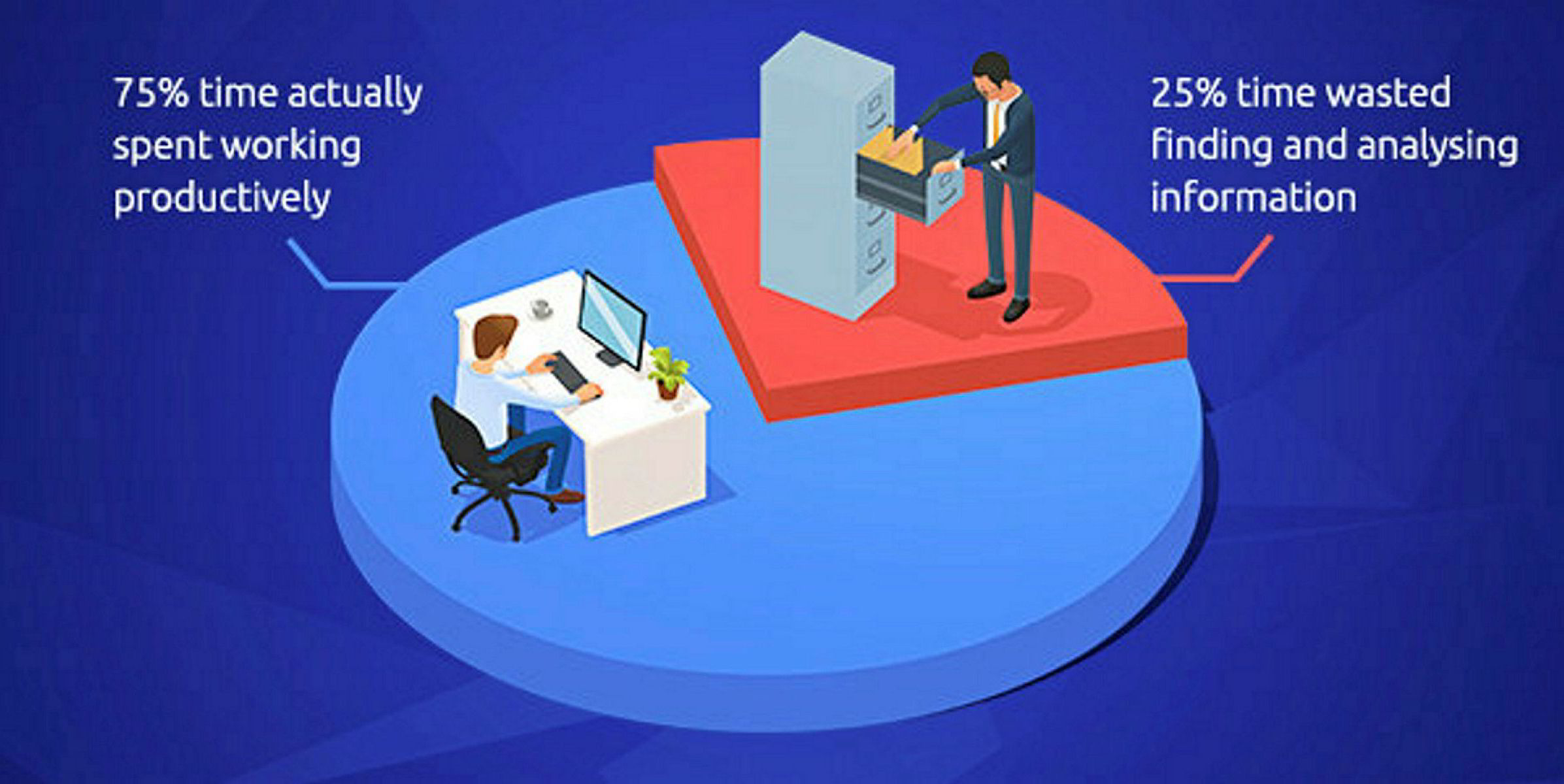 For example, a recent study by the International Data Corporation (IDC) found that the average employee spends a quarter of their time finding and analysing information. Making matters worse, employees only find the information they need 56% of the time. [1] With information spread across Enterprise-Resource-Planning (ERP) and Customer-Relationship-Management (CRM) applications, emails, intranets, content management systems, and other repositories, one can easily understand the extent of the problem.
Let's look at an example to illustrate how challenging this can be. Assuming a company has 50 employees with an average hourly wage of $30, it will lose $60,000 each month due to these inefficiencies. On the other hand, if employees only spent 30 minutes less a day looking for information, that same company would save around 500 hours every month. All that time, then, could be reinvested in other mission-critical areas of operations.
An easy way to gain the competitive edge
The good news is that minimizing wasted time and resources isn't as hard as it might sound. For example, cloud technology has had a significant impact on the way we handle, store, and access data.
The core value a cloud-based solution offers is simplicity. As data is centrally stored in the cloud, all that is needed to access relevant information is an internet connection—regardless of time or location. This enables users to work more effectively without having to request anything from colleagues or IT.
What's more, this centralisation of data also removes boundaries (i.e., data silos) caused by using different systems. Thanks to the cloud, data from various sources is easily connected and can be analysed to gain deeper insights. As a result, employees considerably spend less time looking for information or browsing through several applications.
Cloud-based solutions also help companies reduce their IT spend. Instead of buying hardware and managing servers, the software vendor handles all of that and capex is reduced significantly.
Having a centralised pool of information also makes it easier to evaluate data and calculate KPIs—either by exporting data to software solutions or using advanced solutions that automatically do that for you.
Unlocking the power of the cloud
More and more leading international shipping companies—like OSM, Zeaborn and NSC—have already realized the huge potential of cloud-based software. Employees can access the data they need from any device and from any location, and every department in the company can use the technology to accomplish more.
By choosing Hanseaticsoft's Cloud Fleet Manager, more than 50 international shipping companies have increased efficiency and reclaimed time while having real-time visibility into KPIs, streamlining workflows and including the vessels and crew directly into all processes.
By choosing the right solution today, shipping companies can future-proof their business to ensure they thrive—even in challenging times.