Thousands of Ukrainian seafarers are facing tough choices. Whether remaining on ships, returning to or trapped in Ukraine, or in temporary housing elsewhere, many wonder if they have done the right thing.
This dilemma is illustrated by the story of a Ukrainian third officer on tankers, aged 23 and married with children, who is currently in Poland, but who was at sea as recently as March.
About this series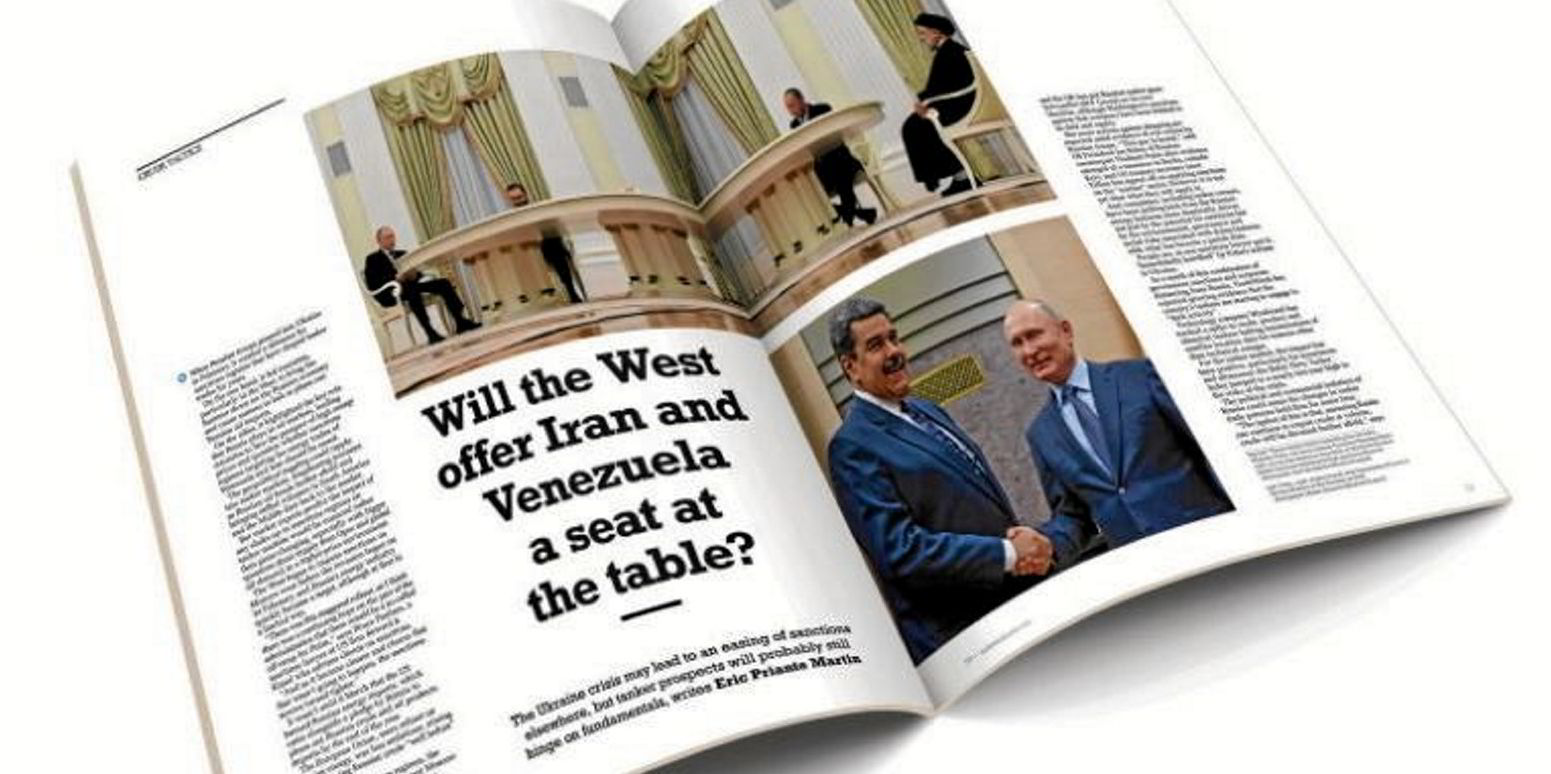 This story is part of a series in TW+ magazine on the wide-ranging impacts of the Russia-Ukraine conflict on shipping. Read the full stories when the magazine is published on 20 May.
The man, who wants to remain anonymous, says normally life at sea looks like the film Groundhog Day: "It goes day by day and nothing changes. But it was really a disaster once the first bombs fell in Ukrainian cities.
"Usually it is not nice to speak about politics on board, but there are always a few guys who think that they know everything. Normally, you just ignore them, trying to stay professional, but not this time."
The young seafarer says conflicts do arise, no matter how hard everyone tries.
"When your family is in danger, your wife and kids cry and tremble, and your mom hides in a bomb shelter from continuous airstrikes, you simply can't listen any more about what a big strategist Vladimir Putin is," he tells TW+.
But the fact that Russian colleagues have access to independent news sources, unlike people in Russia, meant they soon became "mute" when they learned the reality, the officer adds.
He was "really shocked" when the conflict began. He was in port when he received a call from a colleague in the engine room, asking if he'd seen the news of the invasion.
After calling home, he found it difficult to eat or rest: "The worst was to be useless and helpless. I was really ashamed of being that far from home, that I couldn't help or simply be nearby and take everything under control."
Seafarers had to decide their next moves quickly. Only two on the ship opted to return to Ukraine.
"Other guys were feeling scared of war, some of them were thinking of money, because there seemed to be problems with bank transfers," the officer recalls.
He and a friend eventually did decide to go home, but, as they were two weeks from the nearest convenient port for a crew change, there was enough time to rethink.
I am often thinking that I am needed at home, that I can do something and help to defend my homeland from those fascists who kill women and kids. But then I look at my little son and realise that I couldn't leave him, leave my wife
"Until the last minute, I was thinking of going home. I sent my family from Kyiv to my relatives in the central part of Ukraine."
His home is close to Gostomel, Irpin and Chernobyl, around Kyiv, where the heaviest battles raged early in the war.
"My wife was afraid to leave. My house was shaken from explosions, but it was scarier to go out on the open road. I spent two days just trying to persuade her to leave. Finally she gave up, with tears on her face, two small kids in the car and a kitchen knife on the seat next to her for self-defence."
He was "almost calm" once his wife reached a safe location. But the situation was getting worse each day. His family decided to leave the country, making an arduous 2,000-km (1,240-mile) journey through Moldova and Romania.
"When my wife crossed the border, for me it was solved — I am going wherever my family is. It was a hard decision and I am still confused if I did the right thing," the officer says.
His parents stayed in Kyiv, as did many friends and relatives.
"Some of them went to fight the invader, even without the physical fitness for such stuff. So I am often thinking that I am needed at home, that I can do something and help to defend my homeland from those fascists who kill women and kids.
"But then I look at my little son and realise that I couldn't leave him, leave my wife, in a foreign country, without language knowledge, knowing that soon will come the time when money will run out — and going to Ukraine will lead to starvation for my family.
"At the present moment, I am here in Poland. Perhaps I will come and fight."
It is hard to know when he will return to sea, but he does not believe it will be a problem to find and reach a ship. And he praises his employer for granting more internet access after the invasion, as well as providing a mental health hotline.
"I can say for sure that my company does a lot of things to support seafarers in these hard times. They've made huge efforts to help Ukrainian sailors and their families: provide financial support to refugees, help with accommodation and even created a fund to transfer money support to Ukraine."
The company also helped arrange a flat for his family in Poland. Long-term, the officer wants to return home to help rebuild his country. "But for the present moment, I just cannot put my family into danger.
"I hope these horrible things will come to an end soon, that there will be no more death of my compatriots, and it will be safe to live and smile again in my homeland."