Sembcorp Marine is starting to see the first shoots of recovery after two years of Covid-19 — a period recently described by its chief executive Wong Weng Sun as "the most challenging years in recent memory".
Not only has the company had to deal with the pandemic, but it has also been undergoing a major transformation brought on by climate change.
Sembcorp Marine, like larger local rival Keppel Corp, is increasingly pivoting towards the high growth renewables and clean energy — a process that has been underway since 2015.
The company recently achieved a major milestone when it secured its first-ever contract for wind turbine installation vessel (WTIV) newbuildings.
Sembcorp Marine said the vessel design is the result of two years of intense collaborative work with Maersk Supply Service. Delivery is set for early 2025.
The value of the contract was undisclosed, but Keppel Corp secured its first WTIV newbuilding contract in the fourth quarter of 2020 in a deal said to be worth SGD600m ($440m).
The WTIV contract also marked the end of Sembcorp Marine's order drought, with the company's last new contract being modification work for a floating, production, storage and offloading vessel in Brazil, which was secured in June 2021.
Globally, there are only about 16 specialised WTIVs in operation despite the high level of demand, with companies instead repurposing jack-up rigs to either install foundations or install turbines, or both.
"Increasingly, as the market grows in size and matures, we expect more WTIVs to be ordered in the medium-term, thus expanding the addressable market for Sembcorp Marine," UOB Kay Hian analyst Adrian Low said.
"Importantly, the growing size of the wind turbines will also play a role in driving new orders."
Low said the increasing size of the average wind turbine will "require more specialised heavylift WTIVs to cater to the industry's demand".
Rystad Energy recently said that as the energy transition accelerates, demand for offshore WTIVs worldwide, excluding China, will rocket from 11 vessel years in 2021 to almost 79 units by 2030.
The need for installation vessels for turbines larger than 9 MW, which was non-existent in 2019, will grow significantly by the end of the decade and reach 62 vessel years in 2030.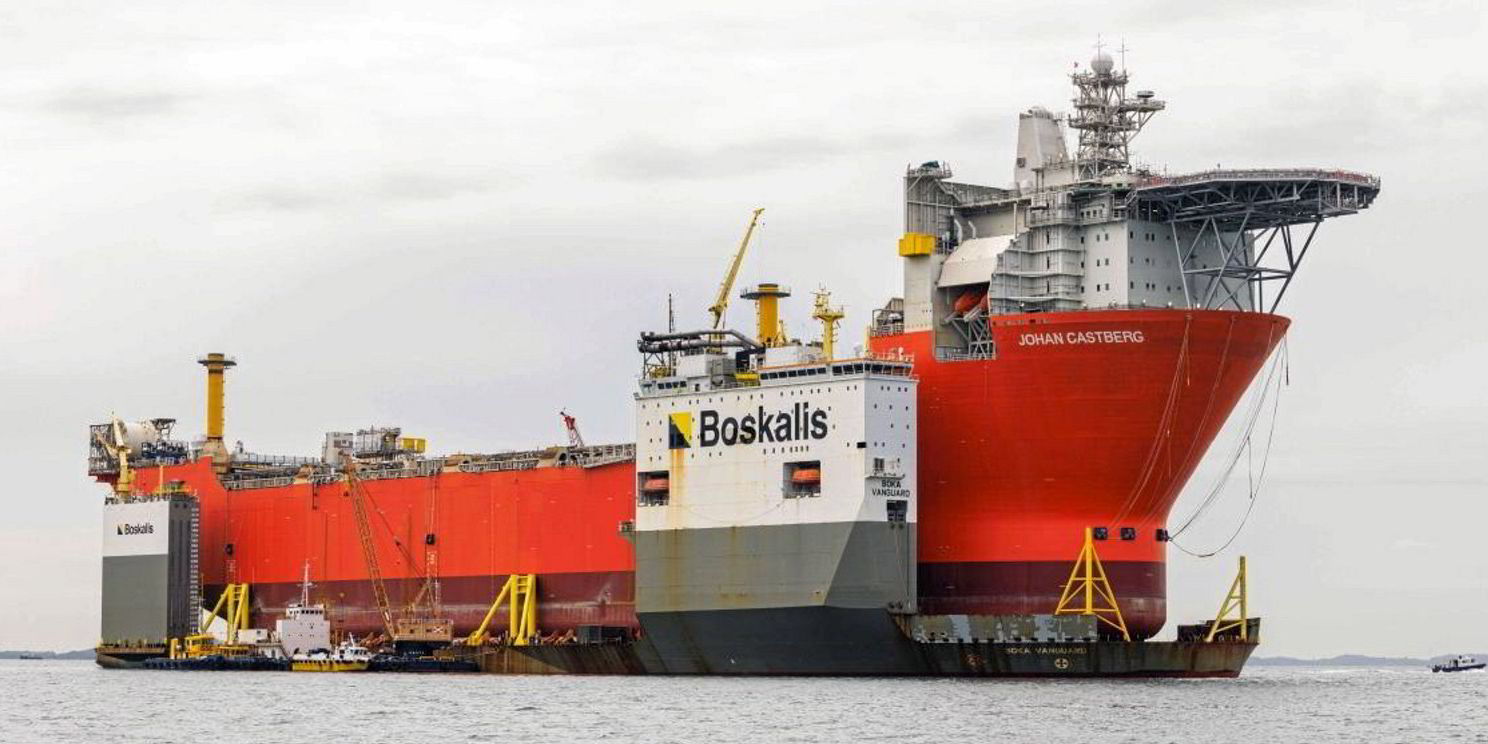 Martin Lysne, rigs and vessels analyst at Rystad Energy, said: "When turbines were smaller, installation could be handled by the first-generation fleet of offshore wind vessels or converted jack-ups from the oil and gas industry.
"However, as operators continue to favour larger turbines, a new generation of purpose-built vessels is required to meet demand."
Sembcorp Marine has also recently completed the fabrication of the first of three identical zero-emission battery-powered ropax passenger ferries for Norway's Norled.
The contract for the vessels, placed in late 2018, marked Sembcorp Marine's entry into ropax ferry design and construction.
They will operate normally with zero emissions, powered by lithium-ion batteries at a service speed of 10 knots.
When required, they can run on combined battery-diesel hybrid backup modes. The batteries will be charged and recharged using green hydroelectric power.
The design of the 82.4-metre-long multi-deck, double-ended ferries, each with capacity for 300 passengers and crew, as well as 80 cars or a combination of up to 10 cars and 10 trailer trucks, is based on a proprietary design from Sembcorp Marine's wholly-owned subsidiary, LMG Marin.
The remaining two ropax ferries are expected to be ready this year.
Sembcorp Marine said it has also secured "green technology retrofit solutions" including 10 projects relating to the installation of ballast water management systems and a scrubber, and identified opportunities in sustainable repairs and upgrades such as air lubrication systems and ammonia-based fuel solutions.
Silverstream Technologies recently posted on social media that it will soon be working with "a trusted partner yard in South East Asia" on the installation of its air lubrication system on nine 16,000-teu container ships, starting in 2023 and finishing in 2025.
"This is an exciting milestone for Silverstream in the container ship market and shows that our air lubrication system is becoming a standard clean technology for newbuild container ships," the UK company said on Twitter.
Renewables, cleaner and green solutions comprise approximately 43% of Sembcorp Marine's net orderbook, which stood at SGD 1.3bn at the end of 2021.
Looking ahead, analysts said Sembcorp Marine's management recently highlighted that they expect 2022 results to be "significantly better" than last year.
This is likely to be helped by its "kitchen-sinking" of a high level of provisions in its 2021 results, meaning that this year is unlikely to be materially impacted by such features.