The long-running saga of the Tasmanian "eyesore" Cotswold Prince has ended with the departure of the ship for scrapping in India.
The anchorage of the derelict 2,600–dwt cargoship (built 1970), owned by Les Dick, in the River Tamar near Launceston had been annoying local politicians for 11 years.
They wanted it sunk as a diving attraction, but Dick has defied the Tasmanian government by selling it to Indian breakers for AUD 600,000 ($419,000).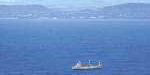 The Australian state had a purchase option on the vessel, but Dick claimed in February the agreement had been signed under duress.
He