MSC Group's cruise divisions have two different orders for hydrogen fuel cells, and each represents a different way in which the technology is starting to find a home in passenger shipping.
In its latest move, the Swiss shipping giant ordered two luxury cruise ships to include a hydrogen fuel cell that experts say will allow the ships in the Explora Journeys luxury line to operate in port carbon-free.
Already on the books was a plan to use a solid-oxide fuel cell that will run not on hydrogen but LNG, taking advantage of the efficiency of using the technology to feed the power needs of the cruise ship's hotel load with a fuel that is more widely available.
The twin approaches by MSC are part of growing moves by cruise majors toward fuel cells for auxiliary power as an arrow in the quiver of carbon emissions reduction efforts, though use of the technology remains in its early innings.
As TradeWinds has reported, MSC's Explora Journeys has ordered two LNG-fuelled cruise ships at Italian shipbuilder Fincantieri that will also have two 6-MW fuel cells that will be powered by liquid hydrogen. The ships will be delivered in 2027 and 2028.
Two previously-ordered, 962-berth ships will be upgraded to install the LNG and hydrogen systems, which will extend the vessels by 19 metres in length.
Using hydrogen on the ships will allow for emissions-free power for the vessel's hotel operations and will allow the LNG engines to be turned off in port.
But MSC is not the first. Royal Caribbean Group's Silversea Cruises, also a luxury line, is planning to roll out its first cruise ship with hydrogen fuel cells and battery power, allowing its ships to run carbon-free in port. The 1,000-berth Silver Nova is scheduled to hit the water next year.
Shore power alternative
Moritz Krijgsman, who leads the marine power systems team at Maritime Research Institute Netherlands (Marin), said shipowners are looking to alternative fuelling for auxiliary power as a way to slash emissions in a port without shore power.
"Several harbours do not have the possibility of electric power supply from shore, and this is one of the alternatives," he told Green Seas.
Subscribe to Green Seas
Get our weekly newsletter on sustainability, ESG and decarbonisation to stay on top of the developments as the shipping industry faces pressure to transform.
Even where hydrogen is not used, fuel cells are finding a role to play in cruise as a way to reduce emissions from hotel load. In shipping, hotel load is the power needed to run systems other than propulsion and on cruise ships it is considerable. because they have actual hotels on board.
After a retrofit, Carnival Corp's 5,000-berth AIDANova (built 2018) is scheduled for a retrofit this year that will make it first large cruise ship to feature a fuel cell, which will be powered by methanol, a hydrogen derivative.
MSC Group's MSC Cruises is building the 5,400-berth MSC World Europa, which will introduce solid-oxide fuel cells (SOFCs) when it is delivered later this year.
The ship will have LNG as its main fuel, and as the fuel for its SOFC.
A product of Bloom Energy, the fuel cell is a fuel-flexible platform.
All fuel cells ultimately require hydrogen, but Bloom's equipment on the MSC World Europa will use an onboard reformation process to produce hydrogen molecules from LNG, which is more widely available compared to other alternative fuels.
"Because it's a high-temperature fuel cell, we're agnostic to fuel. … Our platform can work on LNG, hydrogen, ammonia — whatever fuel is available," Bloom senior director of marine applications Suminderpal Singh told TradeWinds.
Right now, what's widely available is LNG.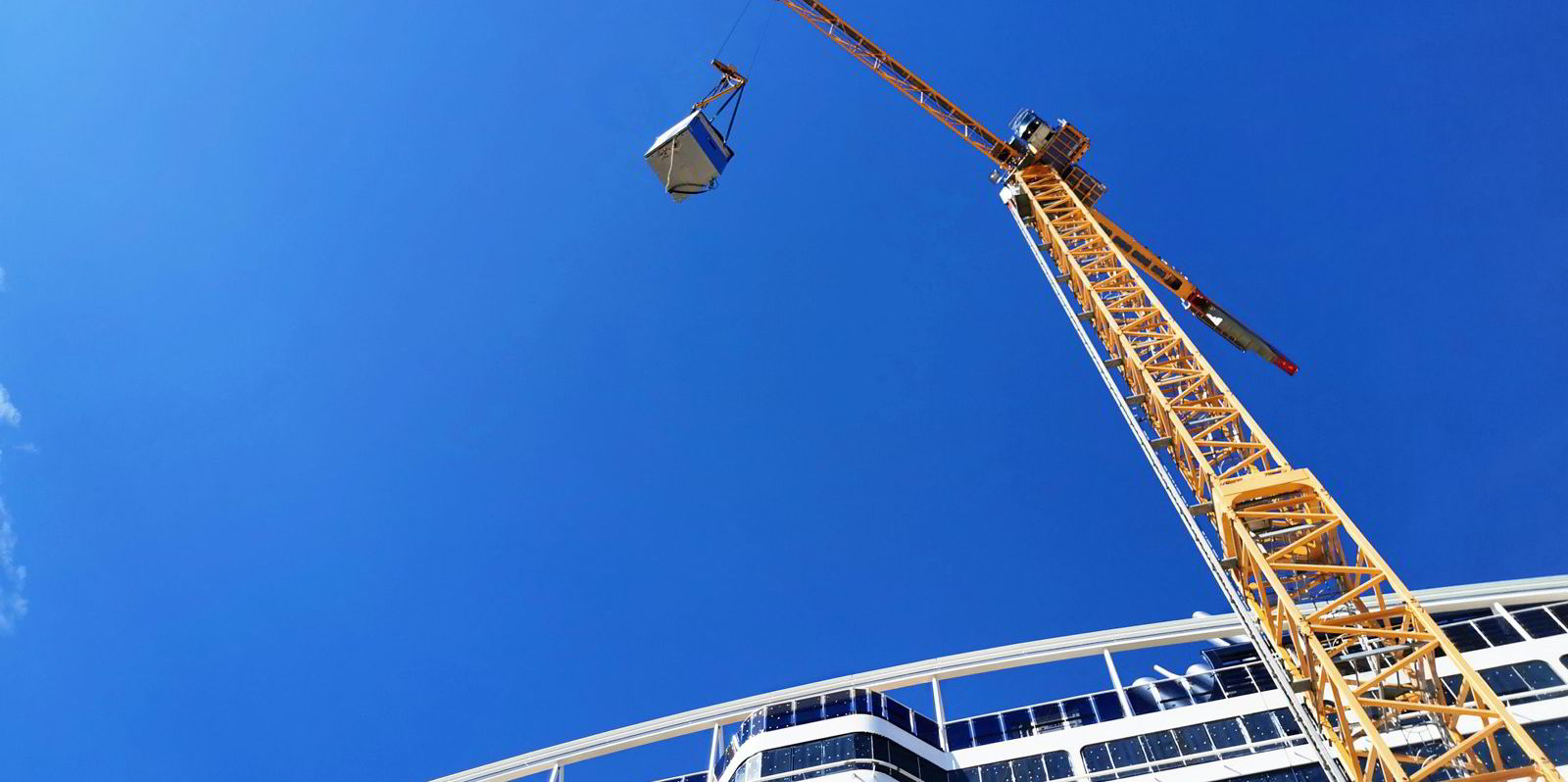 As a high-temperature fuel cell, SOFRs work best when they run at a constant rate, providing a baseload of power that is ideal for hotel loads on cruise ships, rather than the variability of propulsion, Singh explained.
And its modular design is touted for greater reliability, since if one module fails, the rest can continue running.
Hydrogen: hype, hope and the hard truths around its role in the energy transition
Will hydrogen be the skeleton key to unlock a carbon-neutral world? Subscribe to Accelerate Hydrogen, powered by Recharge and Upstream, and get the market insight you need for this rapidly evolving global market.
Unlike pure hydrogen, LNG is not without carbon; the chemical formula of its main ingredient, methane, is CH4 after all.
But Singh said the Bloom system's carbon footprint is 60% lower than using conventional fuels, and an estimated 20% more efficient compared to using LNG in a traditional internal combustion engine.
Bloom is ready for its systems to be used with carbon-free hydrogen or ammonia, whenever the shipping industry is ready to figure out how to get those fuels onto the vessel, he explained.
"What we are seeing is it all depends on the fuelling infrastructure," Singh said.
More news on sustainability and the business of the ocean
The US offshore wind market could suffer a blow after GE Renewable Energy suffered a setback in a patent case. "Developers in the burgeoning US offshore wind sector may have to scramble for new turbine supply options", one analyst writes in Recharge, after a court ruling that blocks use of its flagship Haliade-X turbine. Click here to read the story.
Authorities at the Port of Belledune in eastern Canada have forged an agreement in principle to build a plant that will produce green hydrogen and ammonia for export. Click here to read the story in Recharge.

Container ship operator Hapag-Lloyd has unveiled $100m in energy efficiency improvements for its existing fleet. The company said the eco-upgrade programme will involve more than 150 vessels within five years. Click here to read the story in TradeWinds.