In January, tiny plastic pellets washed up on the beaches of Brittany, leading French authorities to describe the situation as an "environmental nightmare".
As TradeWinds has reported, they also threatened legal action against whoever was responsible for the spill that is believed to have come from a ship.
Weeks later, volunteers were out to clean-up the pollutants a continent away, after plastic beads washed up on Sunset Beach, California. Again, a container ship was believed to be behind the spill.
The plastic pellets known as nurdles, also nicknamed mermaid tears, are at the heart of a global discussion over how to prevent a source of pollution from shipping.
Falco Martin, a programme officer focused on marine plastics at environmental group Fauna & Flora International, said plastic pellet pollution from the shipping industry is a serious issue that is "severely" under-reported.
"Billions of pellets are estimated to be entering the ocean every year, either from large scale shipping disasters, or more chronically, where damage occurs to the packaging used to contain pellets during handling and transport," he said.
"But, the reality is, this form of pollution is entirely preventable."
A subcommittee of the International Maritime Organization is gearing up to discuss plastic pellet pollution at an April meeting.
That is expected to result in recommendations to the Marine Environment Protection Committee in July, where decarbonisation targets are the key agenda item. Fauna & Flora worries that a firm decision on mandatory measures to tackle nurdles will not take place until 2024 and that the problem will become worse the more the IMO delays.
Plastic harms
Environmental groups warn that plastic pellets already contain toxic additives and can absorb toxic chemicals when in the environment.
Marine organisms often mistake the nurdles for food, and the pellets not only can cause harm to wildlife but also can make their way into the food chain.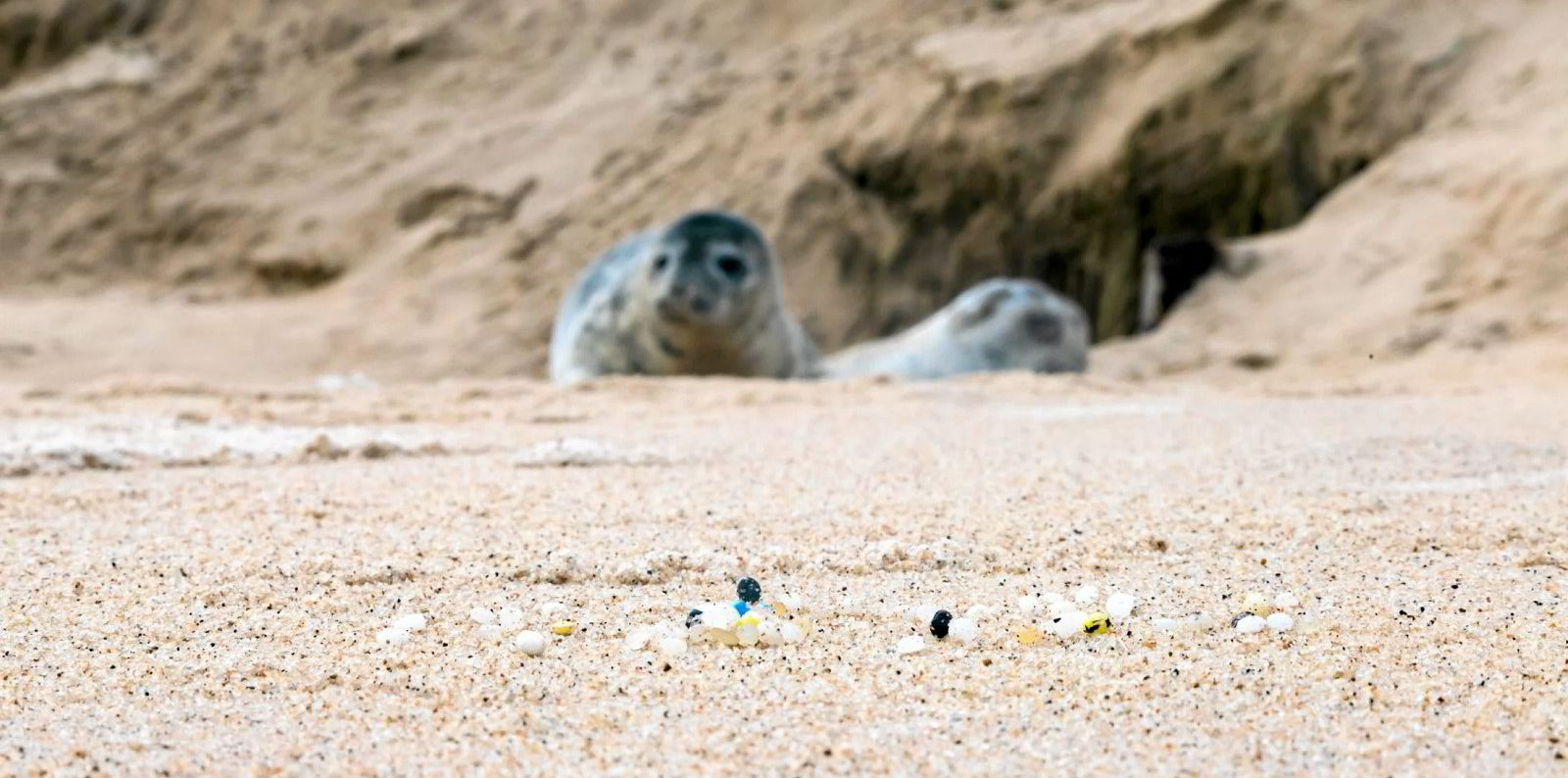 And although they are already considered a microplastic, they break down into smaller pieces that cause more environmental harm.
The key building blocks for many plastic products, nurdles are often lost at sea when containers are damaged, improperly sealed or lost overboard, according to green groups.
X-Press Pearl spill
In a high-profile instance of plastic pellet pollution, 11,000 tonnes of nurdles were spilt when the 2,756-teu container ship X-Press Pearl (built 2021) caught fire and sank off Sri Lanka in 2021.
Authorities in the island nation said the impact of the incident will be felt for generations.
Fauna & Flora wants industry, governments and the IMO to work to put an end to plastic pellet pollution.
Subscribe to Green Seas
Get our weekly newsletter on sustainability, ESG and decarbonisation to stay on top of the developments as the shipping industry faces pressure to transform.
"There are a number of routes that IMO members could take to achieve this. Critically, if IMO members were to vote to legally classify pellets as marine pollutants, this would immediately trigger significant improvements in the way that pellets are packaged, labelled, stowed and transported around the world," said Martin.
"We are also campaigning for national administrations, under the auspices of the IMO, to work together to develop standardised disaster response protocols to help with the containment and clean-up of large-scale spillages from ships."
In an IMO correspondence group set up to tackle the problem, delegations have considered measures including amending the International Convention for the Prevention of Marine Pollution from Ships, or Marpol, to classify plastic pellets as a hazardous substance. That would trigger labelling and stowage rules.
Another option would be to classify nurdles as dangerous goods under another international law, the International Maritime Dangerous Goods (IMDG) Code, although this might take longer to make happen.
Also under consideration is adding a new chapter to Marpol focused specifically on plastic pellets, but this would take time and environmental groups warn that it would give insufficient recognition of the hazards of plastic pollution.
In the meantime, IMO officials are weighing a draft circular that would provide guidance on reducing plastic pellet pollution.
After all, not all delegations are on board with adopting mandatory rules right away.
"We might consider an amendment to Marpol at the appropriate time," said Argentina's delegation in comments submitted in January. "At this stage, we would prefer a set of guidelines that could allow for a learning process that might pave the way for a future mandatory instrument."
_________________
Singapore trials of two biofuels supply chains hailed a success
Jonathan Boonzaier reports that a consortium led by the Global Centre for Maritime Decarbonisation has completed trialling two supply chains of biofuel blends sourced from different origins.
The Singapore-based centre said the trials will help develop a framework to provide transparency and bolster the integrity of the supply chain, as well as increasing user confidence and lowering the barrier to wider adoption of biofuels.
The trials, conducted between October and February, traced biofuels from overseas production sites to Singapore, where they were blended and bunkered.
_________________
Carisbrooke to test hydrogen engine that comes in a container
Anglo-Dutch shipowner Carisbrooke Shipping is gearing up to trial a hydrogen engine that will be fitted on the deck of one of its multipurpose cargo ships, Gary Dixon reports.
The company is teaming up with London start-up Carnot, part of a consortium awarded £2.3m ($2.8m) to develop a zero-emission 50-kW hydrogen auxiliary engine prototype.
Following design, simulations and rigorous testing, the "revolutionary" kit will be integrated into a containerised system and mounted on a deck for a 40-day sea trial in early 2025, the shipowner said.
_________________
Costa targets methanol fuel in new partnership with Swiss producer Proman
Jonathan Boonzaier also reports that Costa Group, the Italian arm of Carnival Corp, will explore how to accelerate the supply of sustainable methanol in partnership with Swiss methanol producer Proman.
The partnership, which was formalised on Thursday, could pave the way for the retrofitting of existing cruise ships in the fleets of Costa Cruises and AIDA Cruises to run on methanol fuel, as well as investment in further methanol-fuelled newbuildings.
This could drive further the implementation of methanol as a marine fuel for the cruise industry, the two companies said.