New IMO regulations are needed to slow and reroute ships to prevent collisions that are endangering populations of whales and dozens of other animals, according to researchers.
Whales, sharks and sea turtles and other so-called marine megafauna top the list of some 75 animals that are being affected by the largely hidden problem of "ocean roadkill", the UK-based researchers say in a commentary in the journal Nature.
Researchers say more and better data is needed but are starting to track high-risk areas that include the Strait of Hormuz, where whale sharks come into contact with tanker traffic moving about one-third of the world's shipped oil.
And while nine of the top 10 shipping companies mention whale strikes as an area of concern in reports, the amount of action they take varies widely, said the authors.
Euronav, Stolt Tankers and MSC are among the shipping firms that have said they would avoid areas or slow down to start addressing the issue.
Hugo De Stoop, the former chief executive of Euronav, said last year that the Belgian tanker giant would avoid certain areas to reduce the risk of collisions, which would not add much to costs.
"We would like other tanker companies to realise that this is not a difficult decision to make," he said.
Stolt Tankers and MSC have also said they were moving their routes around Sri Lanka, where an estimated 1,000 whale strikes happen every year.
Data collected on strikes is at best patchy and various studies suggest that the current reported levels of ship strikes "represent the tip of the iceberg", the researchers say.
The International Whaling Commission, an inter-governmental body, has tracked strikes for several decades but "many of the animals sink and a lot of the incidents can't be detected", said Professor David Sims, one of the authors and a senior research fellow at the Marine Biological Association in Plymouth, UK.
Whale sharks spend half of their time in the top 20 metres of water, putting them at greater risk of ship strikes. Sims told TradeWinds that a research project using fitted tags on about 100 animals and tracking them by satellite suggested that 8% of them could have been hit and killed after entering shipping lanes.
The researchers point out that technology already exists to help ships avoid whales and they call on the International Maritime Organization to bring in new rules to slow or reroute ships and to ensure that the rules are being followed.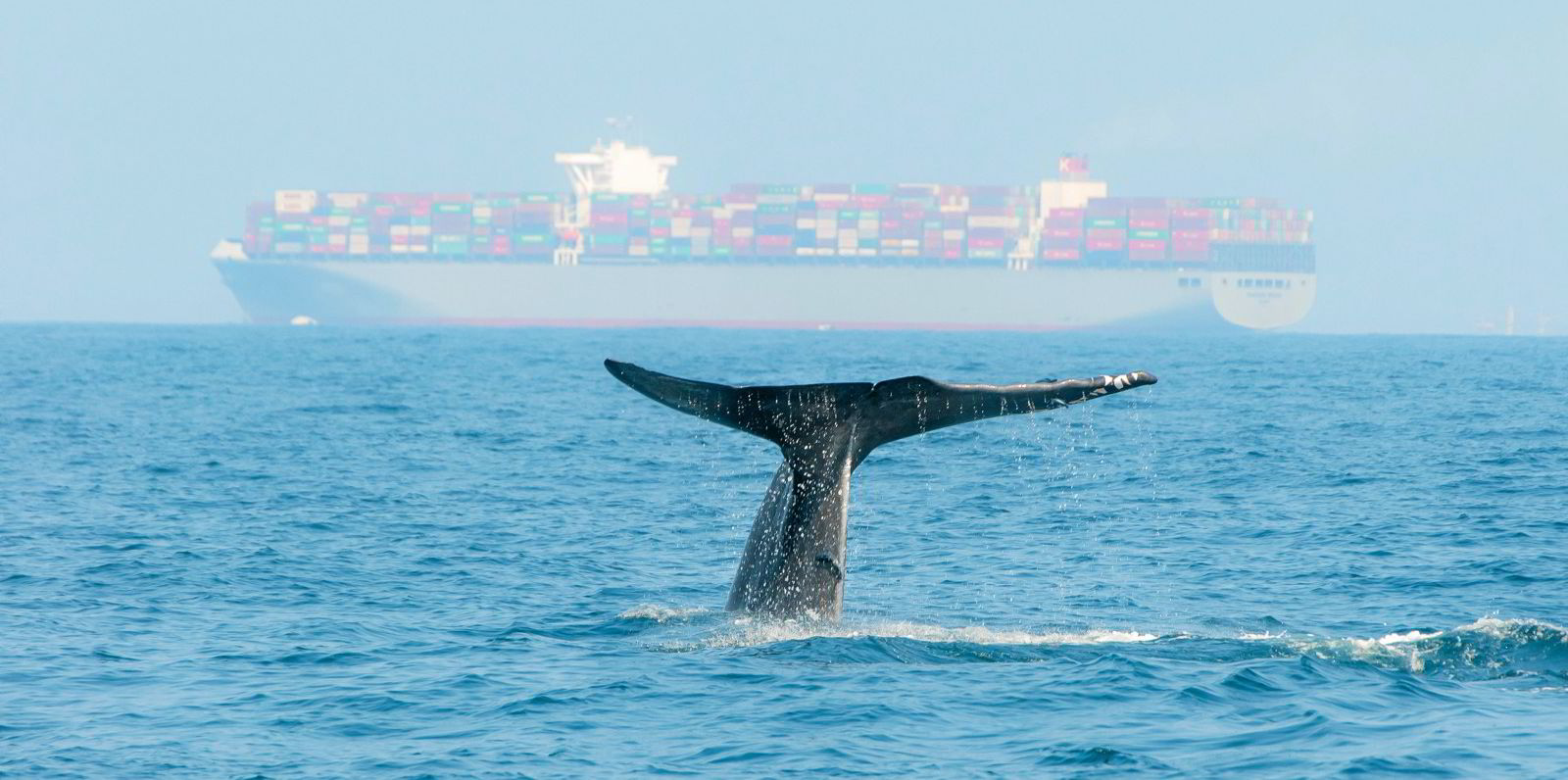 It said an amendment could be made to the International Convention for the Safety of Life at Sea (Solas) to add wildlife strikes to the existing reporting requirements for safety incidents at sea.
"Adding wildlife collisions and near misses to this reporting could enable information to be collected in a comprehensive ship-strikes database," they said.
"A global, IMO-mediated treaty mandating maximum average speeds — and rerouting to ensure ships avoid areas of high collision risk — could be one of the easiest ways to protect wildlife from ship strikes."
Measures introduced to reduce the level of whale strikes in a few ocean areas have been shown to be successful including in the Bay of Fundy, off Canada, where moving a shipping route eastwards by 7km in 2003 cut the risk of collisions with North Atlantic right whales by 90%.
Speed limits imposed along areas of the US east coast in 2008 led to cuts in reports of collisions with the administration of US President Joe Biden looking to expand the scheme.
The IMO has made recommendations to avoid whale strikes in the past but researchers point out that the world's merchant fleet is expected to grow strongly in the coming decades making swift action necessary.
France reported to the UN body in April on an EU-backed four-year trial looking to develop an automated onboard system to identify animals up to 1km away and alert crew to avoid collisions.