Ned Sherwood managed a chuckle when asked how it felt to acquire a "third name" in the pages of TradeWinds.
Disgruntled Ned Sherwood has become best known for his blistering criticism of Greek shipowner Angeliki Frangou and her Navios Maritime Partners, the New York-listed company in which Sherwood formerly held a 5% stake.
He remains a significant Navios holder and an unsparing critic of Frangou, but that is not what inspired him to invite Streetwise to lunch at the exclusive Belle Haven Club, a short golf-cart ride from his seaside home in Greenwich, Connecticut.
Streetwise goes to Belle Haven
Life has been good to Sherwood, 72, on the strength of his impressive career as a leveraged buyout specialist in private equity.
He wore a broad grin as he gave a tour of his summer home — he winters in Vero Beach, Florida — and he was eager to dispel the notion that his view of shipping investments is fully negative.
Indeed, Sherwood sought to keep his Navios commentary to a minimum. He preferred to talk about his other investments in Star Bulk Carriers, Danaos Corp and Zim. But the question about disgruntlement left him needing to explain.
"Having been one of the first in the private equity, leveraged buyout industry, starting in 1979, I only did friendly transactions with private companies, so I've never been disgruntled," he said.
"I guess I only got disgruntled because I made the mistake of investing in Navios."
Sherwood was attracted by Frangou's family history in shipowning — a common factor in many of his private investments in other industries — and the fact that Navios stock was cheap.
"I thought it sounded good and she clearly had an undervalued company and she would want value and I would be able to develop a relationship and be friendly with her. As it turned out, it seems impossible to do that," he said.
"I thought we would be a great team. But it doesn't seem like she thinks we would be a great team, or anyone else would. She doesn't know how to reap value from her companies or doesn't want to. I can't figure it out and that's made me disgruntled."
His main criticism has been Frangou's unwillingness to increase Navios' distribution or dividend. Frangou has declined to address Sherwood's remarks, but said generally that she is acting prudently with an eye to creating value in the longer term.
In any case, the initial clash with Frangou did not deter Sherwood from other shipping investments. He holds roughly 1% of Star Bulk, Danaos and Zim, and has only good things to say about those management teams.
"Since then, I've learned about shipping and I invested in three other shipping companies and in all three cases I am not necessarily up on my investment but I'm not disgruntled," he said.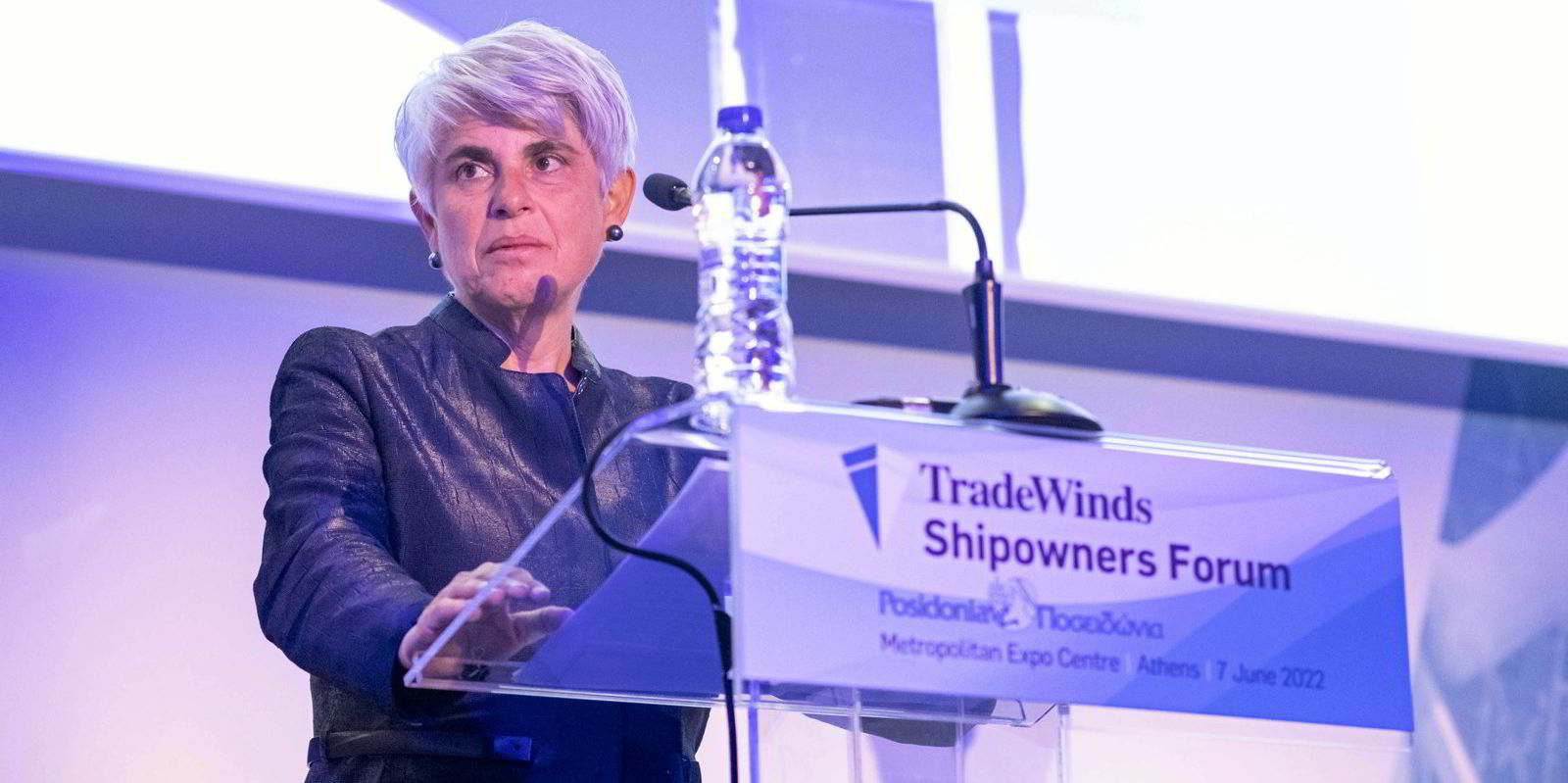 "I have good cordial relationships with all three companies and that is our general mode. So, disgruntled with Navios but happy when it comes to the other three companies."
Sherwood has found a favourite in Greek dry trade giant Star Bulk, led by chief executive Petros Pappas and president Hamish Norton, the long-time investment banker.
"My comments are short: we love Hamish Norton and the Star Bulk management team. You are our dream managers. Please help us take over Navios," Sherwood said.
Betting on boxships
As for the container ship sector, Sherwood has a bet on one tonnage lessor, Danaos, and on the asset-light liner operator Zim. He is bullish on both at a time when market sentiment towards boxships has turned mostly negative amid worries of a global recession.
He contends the sell-off has been overdone. And while he is not disgruntled, he does admit to a new word — "frustrated" — that describes his attitude towards the share price of both outfits.
With Danaos trading around $57 at the time of the Streetwise interview, Sherwood estimated this is half of its book value of $115 per share. Investors are failing to credit $2bn in charter commitments over the next 30 months with rock-solid counterparties unlikely to pose default risks.
Zim faces greater contract risks, he acknowledged, but in the Israeli company's case, the cash is already on its balance sheet with $3bn in reserves, or close to $37.50 per share. Sherwood cannot quite fathom how the stock is trading at only $25.
In both cases, he has told company executives that he favours increased share buybacks.
Danaos has a new $100m shares repurchase authorisation. If that does not move the share price, Sherwood reckons Danaos should authorise $250m more and keep buying until it reaches net asset value.
"I would just buy back stock at well below book value until it gets to book value. If someone's giving me dollar bills for 50 cents, I'll just take them and put them in my pocket because I know they're worth a dollar."
In similar fashion, Sherwood maintains Zim should consider a different use for the 20% of earnings it pays in an annual "make good" dividend, which could amount to $1bn. Consider a stock buyback instead, which could theoretically pull in 40m of Zim's 120m shares outstanding.
"If they don't buy back their own stock and create demand, it's going to engender fear among everyone else: 'If you don't buy it, why should we'," he said.
The investor said he has had Zoom meetings with Danaos chief financial officer Evangelos Chatzis and hopes to meet chief executive John Coustas. Likewise, he has met the Zim management team, led by chief executive Eli Glickman, in New York.
Click here for more of Streetwise's interview with Ned Sherwood.
More ship finance news
French container line CMA CGM has been revealed as a new investor in the world's biggest pure-play hydrogen infrastructure fund. Click here to read.
Sanctioned Russian state shipowner Sovcomflot (SCF Group) plans to exchange $928m of Irish Eurobonds for Russian notes following problems in paying coupons to investors. Click here to read.
The Saverys family is not going down without a fight in its battle for Euronav. The Belgian shipowning dynasty's Compagnie Maritime Belge spent the past three months growing its stake in the John Fredriksen target by 2.8m shares. Click here to read.