US authorities reportedly seized a Greek-controlled tanker carrying suspected Iranian crude before Thursday's action by Tehran against a Chevron-chartered vessel in the Middle East.
Information on the move by Washington lends weight to speculation that the Iranian Navy's seizure of the 159,100-dwt suezmax tanker Advantage Sweet (built 2012) was retaliation, despite Tehran's claim that the ship was detained because it had collided with an Iranian fishing boat in the Gulf of Oman.
Three people briefed on the matter told the Financial Times that US authorities secured a court order to seize the 159,000-dwt Suez Rajan (built 2011) and redirect it to US shores. Shipping market sources had said as early as Thursday that they believed Iranians arrested the Advantage Sweet in reprisals at a US arrest of a ship controlled by Greece's Empire Navigation.
The vessel, also a suezmax tanker, which is owned by a lease finance unit of US private equity giant Oaktree Capital Management but ultimately controlled by Empire Navigation, had been held up in Singapore for more than a year amid efforts to seize its oil cargo to satisfy US judgements against Iran.
Court records in one of the cases show that US authorities had been carrying out a parallel investigation over whether that cargo is of Iranian origin.
The ship departed a Singapore anchorage earlier this month and disappeared off the satellite tracking map over the weekend.
TradeWinds reported in March 2022 how the vessel was at the centre of litigation in a US federal court in New York filed by families of those lost in the 11 September 2001 terrorist attacks.
They sought to seize the ship's oil cargo to apply the proceeds toward a $3.61bn 2018 judgment against Iran for allegedly providing support to terror group al-Qaeda. Iran has long denied a link to the attacks.
But there has been more recent legal action centred on the ship in another case launched around the same time in a federal court in Los Angeles. In that case, a group of families of victims of the 1983 terrorist attacks on a US Marines barracks in Beirut by Iran-supported Hezbollah lodged a complaint in a federal court in California to satisfy their own judgment against Iran.
While many court documents in the case remain sealed or are heavily redacted, some refer to testimony by Martin Graham, a managing director of Oaktree Capital Management UK, in which he explained the US government's investigation into whether the Suez Rajan was carrying Iranian oil.
The families had asked district judge Percy Anderson to order Oaktree to take steps to bring the ship to US shores so its cargoes could be seized.
But last month, the judge declined. He ruled that Oaktree, whose Fleetscape Capital division was the ship's financial lessor, was not in "possession or control" of the ship because it is ultimately controlled by an affiliate of Empire Navigation.
The families have now appealed to the Ninth Circuit Court of Appeals in San Francisco. While they are not required to lay out their arguments until July, they argued to Anderson that Oaktree did control the vessel because it had the power to retake possession of the vessel.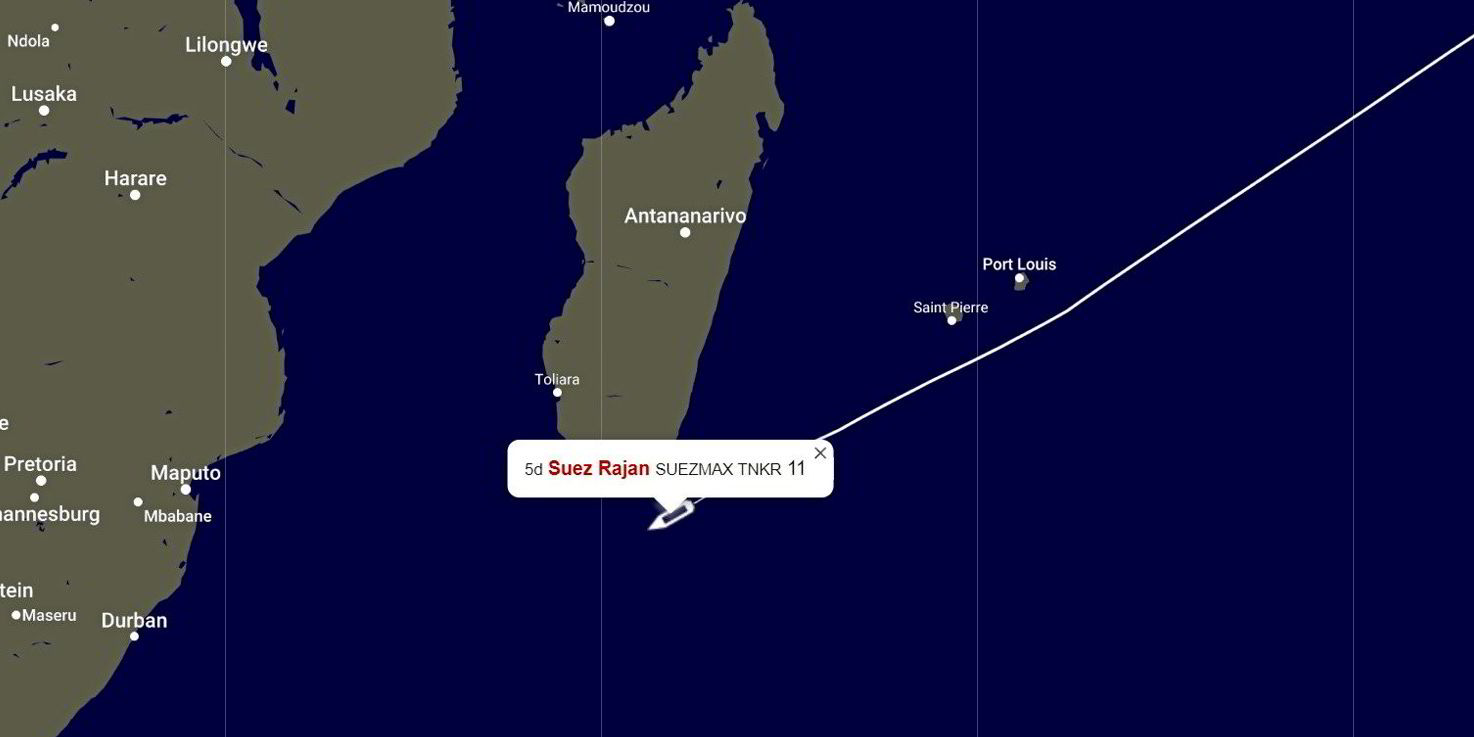 Highly redacted minutes of a 3 March court hearing show that Oaktree was unable to retake possession of the ship "without sufficient evidence under English law that the cargo on board the vessel is contraband".
Court records show that Oaktree had asked Empire Navigation to hold the vessel in Singapore until the legal dispute is resolved.
But on 4 April, the Marshall Islands-flagged Suez Rajan departed an anchorage off Singapore, still laden with crude, according to tracking data from VesselsValue.
At first, the ship headed east and then north, in the general direction of Bangkok, although the Financial Times reported that its ultimate destination was China.
Then on 6 April, it made a U-turn off the coast of Malaysia, starting an eastward course that brought it across the Indian Ocean to a spot south of Madagascar, where the signal from its AIS transponder stopped on Saturday.
It is unknown whether it was a US or Malaysian court that issued the seizure order.
At the time, the ship broadcast no destination but gave an estimated time of arrival for Thursday, although it has yet to appear on US shores.
The US Justice Department and Empire Navigation did not respond to a request for comment.
A spokeswoman for Oaktree's Fleetscape referred TradeWinds to a March 2022 statement issued when the Suez Rajan controversy first emerged.
"Fleetscape is committed to using best practices in its operations and complying with US sanctions laws," the company said at the time. "We take any allegation of non-compliance very seriously and are cooperating fully with the US authorities in a thorough investigation into this matter."
When asked about what officials suspected was behind Iran's actions, the US State Department referred TradeWinds to the Tweets by the US Navy revealing the seizure of the Advantage Sweet.
Harry Papachristou and Jonathan Boonzaier contributed to this article.