You can't even go on vacation anymore without being confronted with the impacts of climate change.
As my family arrived at an oceanfront apartment we rented in Cartagena's Bocagrande neighbourhood, we were confronted with a surprise: the beach is a construction site.
From my balcony on the 28th floor, I watched as diggers and dredgers worked to build a bulwark against rising seas that threaten to put parts of this Colombian city under water.
The construction of embankments, breakwaters and new beaches is part of Plan 4C, with the Cs standing for keeping Cartagena competitive and climate-compatible.
The inconvenience was minor for us, as there were plenty of beaches that were open in Colombia's hottest destination for tourists.
But as taxi drivers navigate flooded streets, a phenomenon that can happen even in the dry season, they may mention that climate change is already impacting this city.
Cartagena — home to one million inhabitants, a historic city centre that is a World Heritage site and one of South America's busiest ports — is not alone.
A few weeks before my visit, the World Meteorological Organization (WMO) met in the 489-year-old city for a regional conference, issuing a report that found that last year's sea-level rise in Latin America outpaced the global average — continuing a trend that has lasted three decades.
South America's threat
"Sea-level rise threatens a large proportion of the population, which is concentrated in coastal areas, by contaminating freshwater aquifers, eroding shorelines, inundating low-lying areas and increasing the risks of storm surges," the WMO said in the report.
The United Nations body noted that the problem of rising oceans is particularly acute on South America's Atlantic coast south of the equator and subtropical regions of the North Atlantic and Gulf of Mexico coasts.
Subscribe to Green Seas
Get our weekly newsletter on sustainability, ESG and decarbonisation to stay on top of the developments as the shipping industry faces pressure to transform.
Cartagena is expected to see a sea level rise of 24 cm by 2050 and 52 cm by 2100 under a scenario of moderate greenhouse gas reductions, according to a September study by led researchers at Colombia's EAFIT University.
That would flood parts of the city, including the port area of Mamonal, by the end of this century.
Rising seas meet sinking city
But that will be compounded by another problem that Cartagena is facing: parts of the city and its port zones are sinking.
Add in the rate of this ground-level subsidence, and effective average sea-level rises stand at 36 cm by 2050 and 85 cm by 2100, the EAFIT University-led study found, and that is with moderate cuts to global greenhouse gas emissions.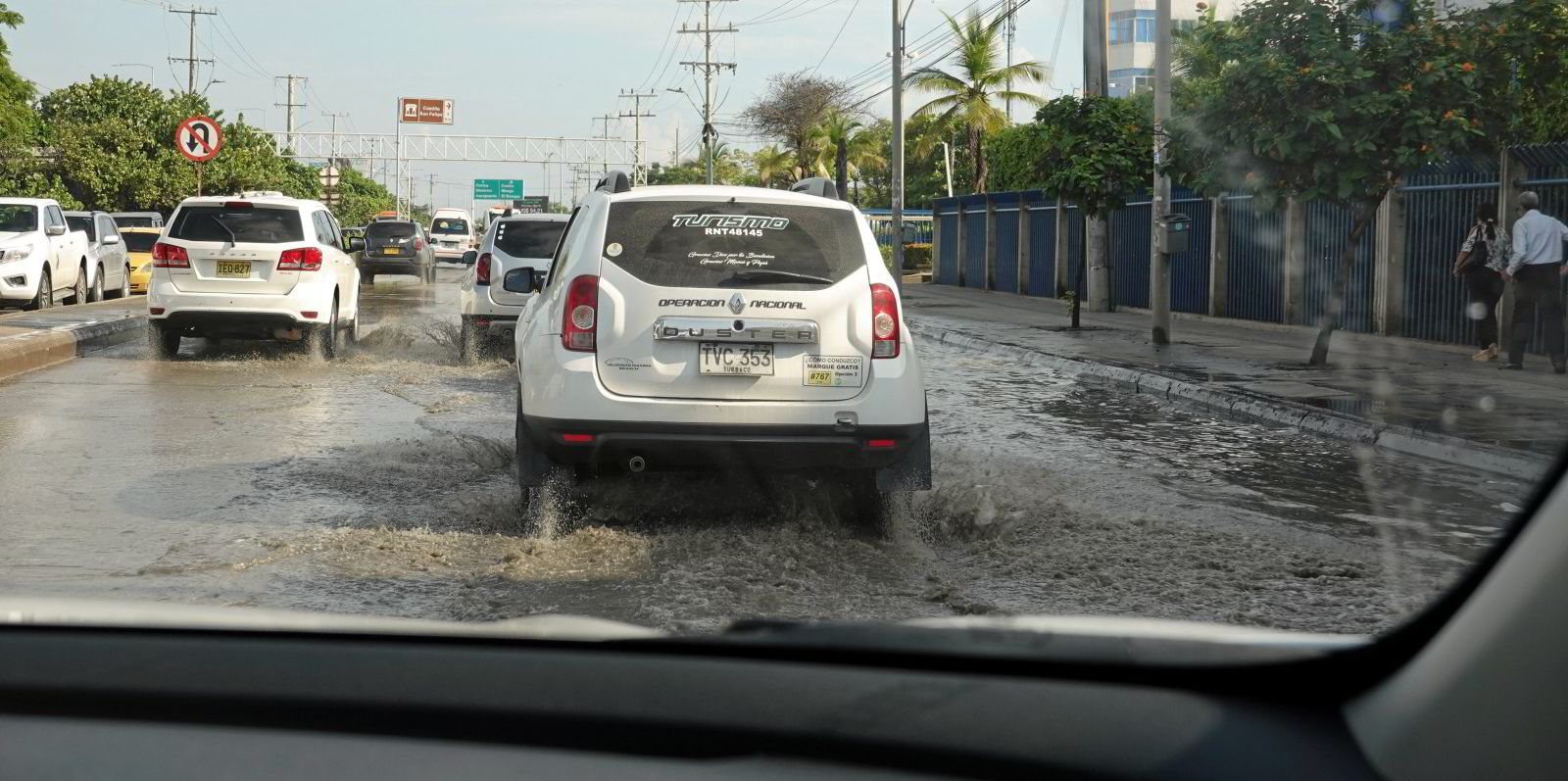 "Future city planning, including the conservation of cultural heritage, flood mitigation of coastal communities, and infrastructure development, must implement consistent subsidence measurements and modelling across the city," the authors concluded.
Among the areas that saw the widespread sinking land were port zones, with the oil port of Bahia Blanca scoring the second highest cumulative subsidence reading.
But Florida International Unversity earth and environment professor Shimon Wdowinski, one of the authors of the study, said climate resilience for critical infrastructure like ports is easier to handle than for residential communities in coastal areas.
"For the operation of infrastructure, I can see a solution. It's a costly solution, but it's important," he told Green Seas. "For the residential [areas] behind that, that's a different story."
The Plan 4C climate resilience effort is underway now, but it was announced more than six years ago and suffered long delays.
But for this port city and others in Latin America, it is clear that this is just the beginning of efforts to make shorelines climate resilient.
More on sustainability and the business of the ocean
Marine insurer West of England has hired shipping lawyer Gina Panayiotou to develop its environmental, social and governance (ESG) strategy. Click here to read the story in TradeWinds.
Tonnage providers and liner operators disagree over the impact that upcoming International Maritime Organization carbon rules will have on container shipping, though they do not dispute one thing: that ships will have to slow down. Click here to read the story in TradeWinds.
Equinor's energy transition strategy has come under scrutiny after a Norwegian government-funded study has found that its investment in Dogger Bank — the world's largest offshore wind project under construction — will not be profitable. Click here to read the story in Upstream.