Two events central to shipping's decarbonisation last week — or rather one event and one non-event — suggest the International Maritime Organization is on its way to becoming a turkey that votes for Christmas.
The European Union moved forward with its FuelEU Maritime Regulation stipulating that the greenhouse gas intensity of ships' fuels should be reduced by at least 2% by 2025, ratcheting up to 80% by 2050.
A couple of days later, it emerged that the IMO intersessional working group had failed to gather a consensus on a target for zero GHG emissions by 2050 for approval by governments at the crucial Marine Environment Protection Committee (MEPC) meeting in July.
Opposition from a range of countries, including China, Russia, Saudi Arabia, Argentina and Brazil, which voted against a zero target, ensures the IMO is heading for irrelevance as a global shipping regulator unless a screeching handbrake turn is made within the next three months.
A muted, "glass half-full" response from the International Chamber of Shipping simply expressed disappointment at the outcome, alongside optimism that a deal can be struck at the MEPC.
Even environmentalist groups such as Opportunity Green looked for a bright side in commending broad support for zero emissions by no later than 2050 at last week's meeting.
But Opportunity Green's shipping manager, Ana Laranjeira, who attended the discussions, also pointed to big problems when she said that at this point there is no time left for such a fundamental disagreement over what zero emissions mean.
The need for rapid and effective action was emphasised in a final report by the United Nations' Intergovernmental Panel on Climate Change, also released last week.
UN secretary general Antonio Guterres said the report outlined massive devastation already caused by climate change but it offered some hope that there is one "last chance". Citing the Oscar-winning film, he said the "world needs climate action on all fronts: everything, everywhere, all at once".
The IMO is at a transitional point itself. The hardworking Kitack Lim, who has made great efforts to push the carbon-cutting agenda, will stand down as secretary general at the end of this year.
Whoever takes over from him will have their work cut out to complete the process Lim has set in motion over eight years.
That work will not be helped by the febrile geopolitical situation, with negotiations potentially complicated by the war in Ukraine.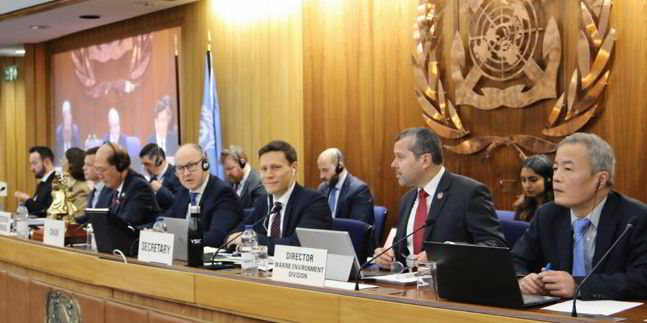 Russia, a stand-out opponent of net zero, may be less inclined to side with Western interests while its oil and gas industries are under sanction, and China could stand with Russia over energy policies.
China's energy strategy remains opaque and to an extent contradictory. It is greatly expanding its renewable sources, but is also still consuming huge amounts of coal in its power stations.
But if states within the IMO cannot agree on a positive commitment, there is a danger it will increasingly hand its role to regional and national governments to regulate environmental issues affecting shipping.
The EU has said it is open to amending policies such as the inclusion of shipping in its emission trading system (ETS) if the IMO acts positively on a global scale, but that is looking less likely.
And as the European Community Shipowners' Associations said, there is still work to be done by Europe. It is among those organisations seeking European Parliament and European Council support for binding targets on suppliers of clean marine fuels in the revised Renewable Energy Directive, so there are sufficient supplies and, with the ETS, the price gap with fossil fuels can be bridged.
With the EU acting, the US and China are also expected to start setting up matching regional systems to regulate shipping emissions.
That does not guarantee positive outcomes, but could make the IMO increasingly irrelevant if a global regulatory structure of sorts is patched together.
It is getting to the point where there may be just one last chance for the IMO as well as the environment.