UK charity Human Rights at Sea (HRAS) is celebrating its biggest win yet after convincing the New Zealand government to fund seafarer welfare centres at the country's ports.
HRAS teamed up with Reverend John McLister, chair of the Seafarers Welfare Board in New Zealand, for an April report that criticised the state of these centres, which were reliant on donations to keep running.
Now the ruling Labour Party, led by Prime Minister Jacinda Ardern, has included a pledge to provide state funding in its manifesto for the general election on 17 October.
The promise is printed on pledge cards for candidates.
In the manifesto document, the Labour Party said the HRAS report found that seafarers' shore-based welfare facilities and services were inadequate.
The government admitted that, under the Maritime Labour Convention (MLC), New Zealand has an obligation to provide for crews who come ashore.
Insufficient money
But this is currently funded largely through charitable sources, and the money from those efforts is not sufficient to provide adequate facilities, the party said in the document.
Labour said it will ensure welfare centres will provide services to the level required by the MLC by amending New Zealand's Maritime Transport Act to secure funding through the country's maritime levy, a tax on ship operators calling at its ports.
HRAS called the move "the most significant state-level legislative and policy change on behalf of developing seafarers' welfare services alongside a welfare partner that Human Rights at Sea has achieved to date".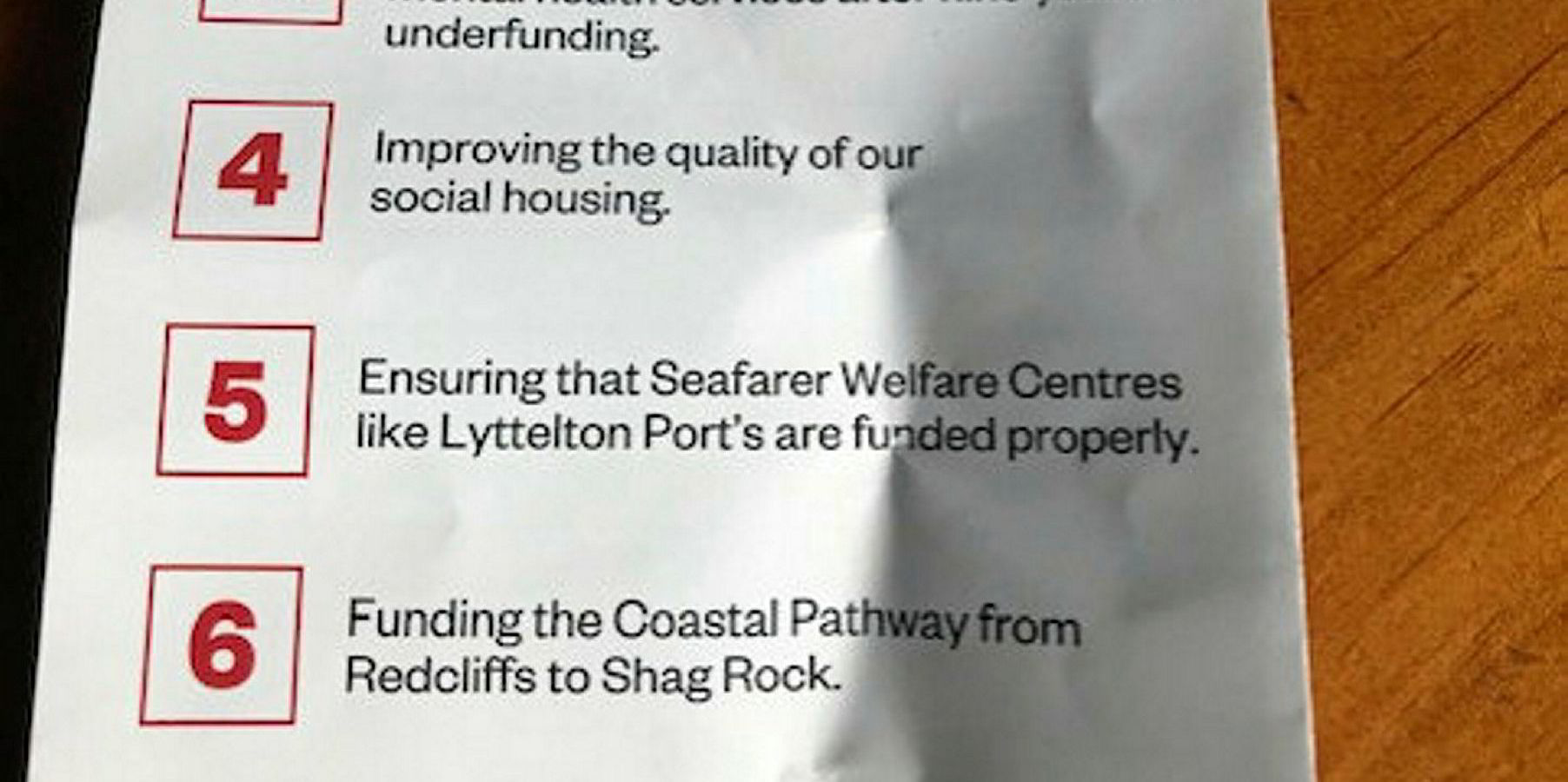 Chief executive David Hammond told TradeWinds that advocacy efforts to secure long-term seafarer support and welfare facilities that are sustainable and fit-for-purpose have been given a significant boost by the policy change.
Worries over?
"This means that if enacted, as promised by the government, seafarers visiting New Zealand will be substantially better supported, as will their welfare providers in terms of not worrying where the next dollar is coming from and being able to deliver high-quality facilities and support services," he added.
And he praised the "exhaustive efforts" of McLister and his colleagues in driving the agenda, as well as the senior shipping counsel review by barristers James Turner QC and Stephanie Barrett, of Quadrant Chambers in London.
The report, called New Zealand: Under-Funding of Seafarers' Welfare Services and Poor MLC Compliance, found support for the centres was "precarious".
Charities stump up
HRAS said the government did not appear to have engaged with the International Labour Organization (ILO).
In 2017, it cost New Zealand seafarers' welfare charities more than NZD 700,000 ($420,000) to finance the country's shore-based welfare centres.
There was a grant of NZD 5,000 from Maritime New Zealand, two NZD 5,000 grants from port authorities, and a NZD 5,000 grant from Christchurch Council.
The cost of running welfare centres would be much higher if it were not for the reliance on voluntary labour to staff seafarers' centres, HRAS said.
It is estimated that in 2017, using the independent volunteer sector rate of NZD 23 per hour, volunteers contributed NZD 600,000 to staffing these.