Something big, bold and bin-shaped appeared centre stage on the riverfront in the heart of London's Canary Wharf business district on Wednesday.
GreenSeas Trust founder trustee Fazilette Khan — best known to readers as "Bobby" for the column she wrote for TradeWinds when at sea working for Princess Cruises — unveiled the marine environment charity's seventh bin and the first for the UK's capital.
The eye-catching orange and white BinForGreenSeas, which is made from recycled material, has been designed to encourage the public to post their plastic bottles through its porthole.
London's Lord Mayor William Russell cut a red ribbon to declare the bin officially open for use, with Canary Wharf Group managing director of strategy Howard Dawber gleefully depositing a first bottle in the bin.
Russell told Khan — who launched GreenSeas in 2003 in memory of her mother Haida Khan to combat plastic waste in the oceans — that she was "ahead of her time" in thinking about the environment.
He said London's River Thames is the second most plastic-polluted waterway in the UK, adding that it is "wonderful" to be doing something to tackle this.
Education
The bin is funded by a £10,000 ($14,081) grant from the City Bridge Trust, with some of the cash being used to back an associated educational programme for local schools.
Khan told the assembled guests that the focus of the charity has always been about education for children and everyone who spends any time on a coastline.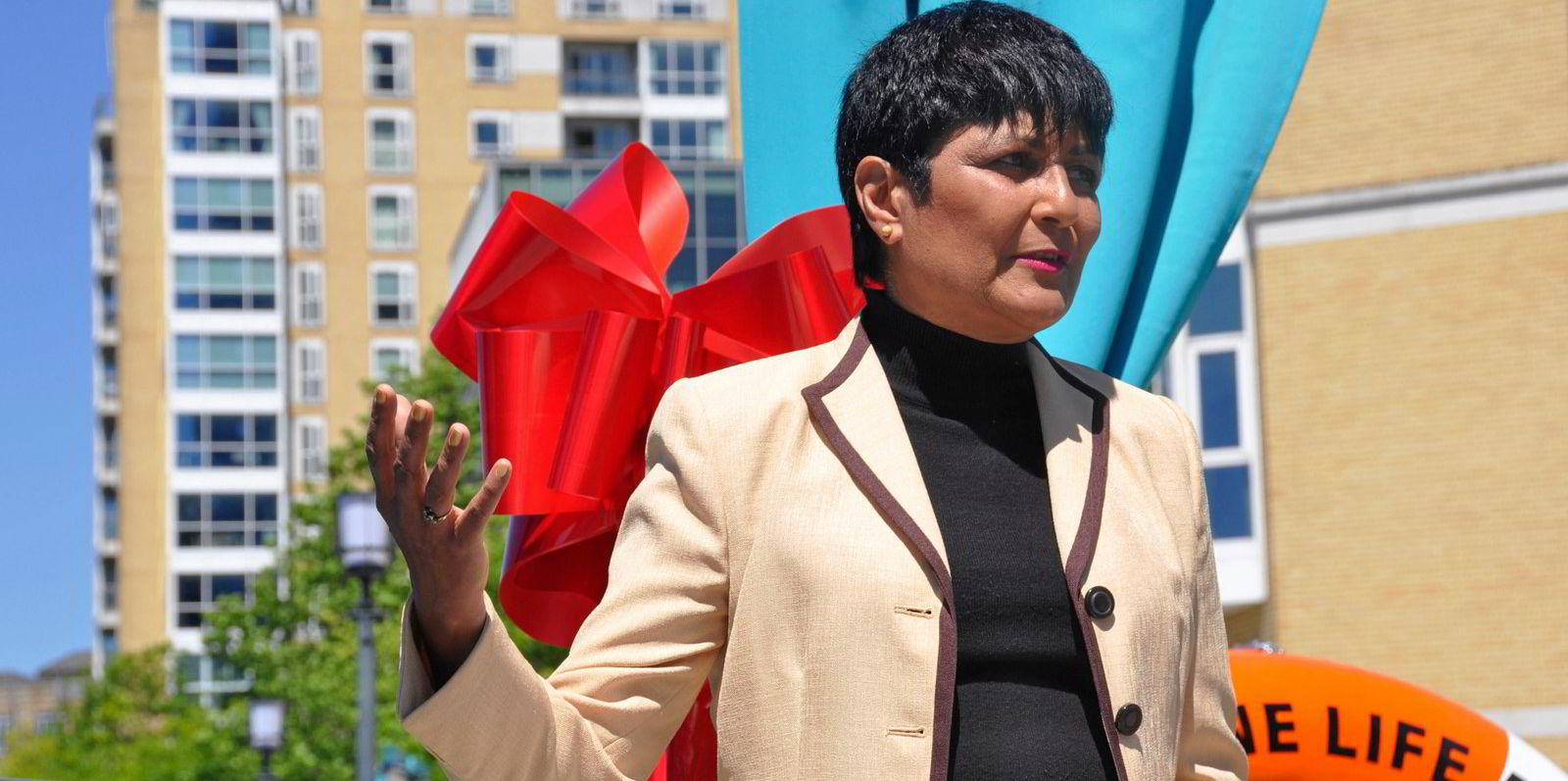 "We wanted people to make the connection between their own plastic consumption and the repercussions this has for the marine environment when it is littered," she said, adding that 700,000 plastic bottles are thrown away as litter each day in the UK.
And this is just the start for volunteer-led GreenSeas. Next stop on the bin rollout is Portishead near the city of Bristol — which has strong maritime radio connections of its own, something one-time radio officer Khan is excited about.
A ninth bin is due to be unveiled in the seaside town of Scarborough in July.
Khan told TradeWinds that she has had "exceptionally good" feedback from the councils where other bins have already been in action.
She added the success was down to the eye-catching colour of the bins that make them hard to ignore and that the public are increasingly aware of the problems with plastic waste.