A Greek-managed products tanker has been hijacked a large distance off the Somali coast.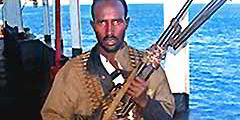 The 72,800-dwt Polar (built 2005) was seized overnight between Friday and Saturday but the hijacking was only confirmed on Saturday.
There are 24 crew members onboard the Panama-flagged ship. There are no reports of any injuries or damage to the ship.
Although the exact position at which the vessel was taken is not known, it is believed to have been at the very easterly extremities of the area of operation for naval vessels. Consequently there were no warships in the vicinity to provide assistance.
A statement from counter-piracy task force EU NAVFOR later confirmed the hijacking which it said occured 580 miles east of the Yemeni island of Socotra. The crew comprises three Greeks, 16 Filipinos, four Montenegrins and one Romanian, the statement read.
A statement later issued on behalf of Athens-based Paradise Navigation put the number of Montenegrins at three with one Serbian also onboard.
The Greek said the incident occured at 01:40 UTC on Saturday about 600 miles east of Socotra. The vessel was en route frrom St Peterbsurg and Kronshtadt to Singapore with fuel oil.
"All the appropriate authorities have been contacted immediately and made aware of the situation, including the flag state, the counter piracy coordination force EU NAVFOR and the crew manning agencies of the seafarers involved," Paradise wrote.