Shipyard offshoot Damen Engineering Gdansk, marine software provider Napa and Bureau Veritas have for the first time completed a real vessel design project using 3D modelling through to class approval.
Although 3D models are often generated during the early stages of the ship design process, they have until now had to be translated back to 2D versions for approval in a time-consuming process that risks incorporating mistakes.
But the partners said they have worked together via a collaborative web portal on a single shared 3D design for a 2,500 cu m dredger that will go into production, and the process can be used for any other type of cargo or passenger ship.
Netherlands-based Damen Shipyard Group said the process is already being applied to further designs including 1,000 cu m and 4,000 cu m hopper dredgers that can be built in standardised serial construction.
Damen Engineering Gdansk was set up in 2013 as a design centre for prototype vessels with optimised performance. Managing director Kasia Romantowska said it has used 3D tools supplied by Napa for some time
But the ability for all partners to go through reviews and approval on the same 3D model is "a game changer" she said.
"Now, all stakeholders in the design process have access to a single, reliable and real-time source of information and this is key to facilitating communication and limiting the risk of errors," she added.
A single source of 3D data that can be worked on simultaneously by design partners in various parts of the world is achieved by using standardised classification industry open format OCX software on which BV can then perform rule checks and calculations using its MARS and VeriSTAR Hull computer systems.
Bureau Veritas Marine & Offshore director of business ownership for the digital solutions department, Olivier Degrand said the 3D classification process is applicable for different ships and it has engaged in pilot projects for its use on cargo ships, tankers and gas carriers among others.
BV is also working with other computer-aided design systems to ensure the OCX format is fully compatible with them.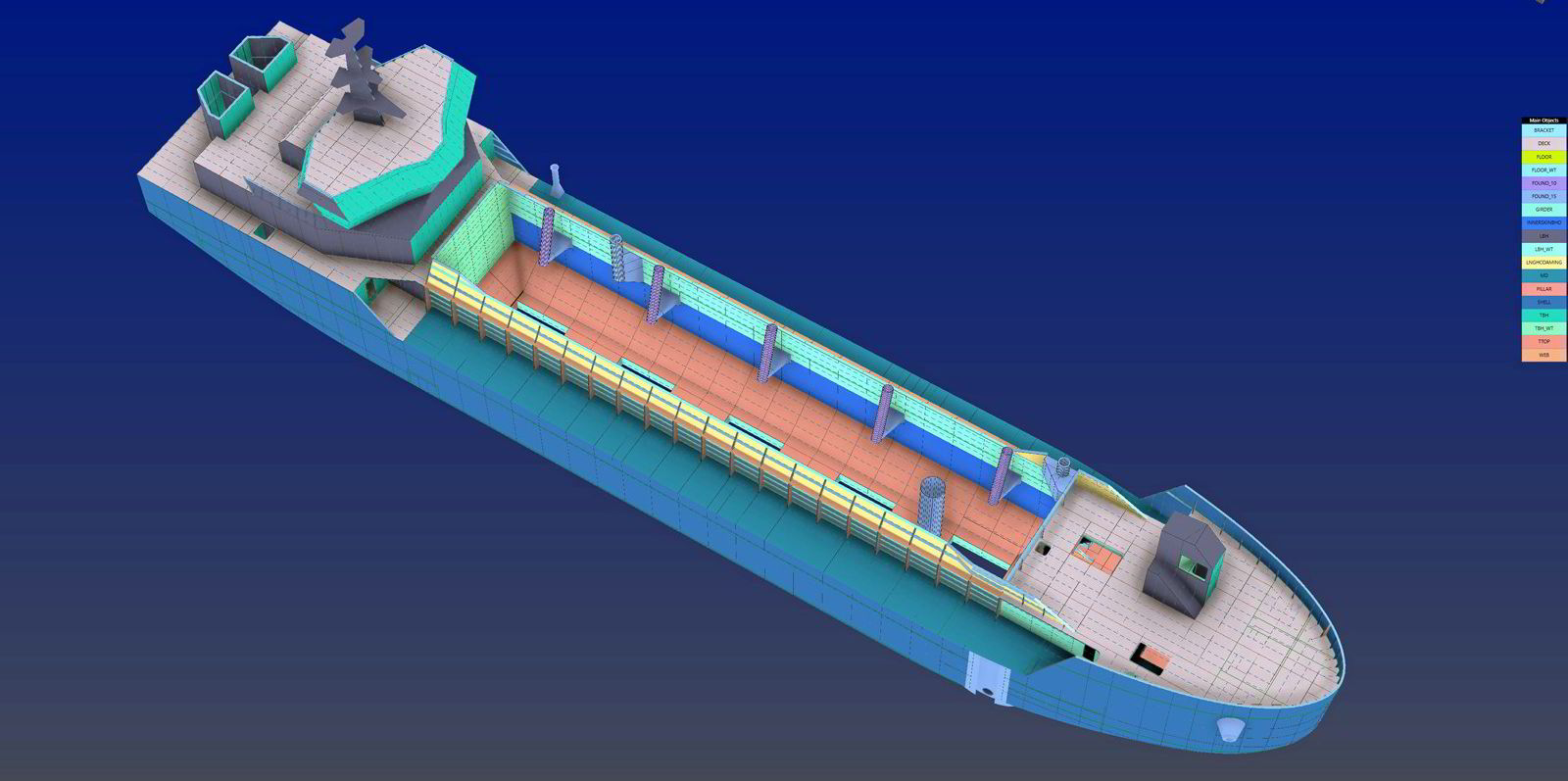 Napa Design Solutions sales director of Europe and Africa, Tommi Kurki said the Finnish software firm is talking to all class societies about 3D design processes using the open format.
Other classification societies working on collaborative 3D design systems using OCX include DNV which is believed to be close to achieving similar full vessel results after running pilot projects.
Robert Guzdzik, senior structural engineer at Damen Engineering Gdansk, compared the use of OCX to match other systems with speaking a language that needs to be translated carefully to prevent errors from occurring.
Kurki said around 80% of the most important decisions about and radical changes to ship designs were made in the first 20% of the process with up to six translations made from 3D to 2D drawings and back again.
It was much easier to avoid incurring extra costs and delays down the line when collaboration could be achieved on a single 3D plan, he said.
Getting it right is becoming more important as the transition to low-carbon ships and fuels puts pressure on designers and shipyards to develop greener and more efficient vessels, Napa added.