LNG has been facing mounting scrutiny as a fuel for shipping. After all, it is a fossil fuel whose main ingredient is methane — a more potent greenhouse gas than CO2.
And last week, this newsletter highlighted how environmental groups hope to persuade European Union politicians to adopt regulations that provide fewer incentives to use the fuel.
But for proponents of LNG, including shipowners whose investments in natural gas-powered vessels have made it the leading alternative fuel in the industry, the criticism overstates the environmental harm.
And they believe it underestimates the potential that renewable LNG holds for a low-carbon future.
Green Seas spoke to leaders at SEA-LNG, an industry group that promotes the use of LNG as a marine fuel, in the wake of an International Council on Clean Transportation (ICCT) study questioning the potential for renewable LNG without larger subsidies and an end to methane leaks.
100-year vs 20-year time frame
Critics of LNG point to estimates that, when weighed on a 20-year time frame, methane has 80 times the heat-trapping power of CO2, compared to 28 times after 100 years in the atmosphere.
The ICCT report said that using all renewable LNG on EU voyages in 2030 would lead to a 38% reduction in well-to-wake CO2 equivalent emissions in 2030 on the 100-year timescale. But over 20 years, the emissions are 6% higher, the nonprofit research group said.
Subscribe to Green Seas
Get our weekly newsletter on sustainability, ESG and decarbonisation to stay on top of the developments as the shipping industry faces pressure to transform.
But SEA-LNG chairman Peter Keller said the focus on the 20-year timescale is not the scientific standard.
"We don't really see this as good science. Science continues to embrace the 100-year parameter," he said.
Progress on methane slip
SEA-LNG also claimed the ICCT report used an older picture of the LNG-fuelled fleet, from a time when four-stroke engines with higher methane slip were more prominent, when estimating emissions.
The pro-LNG group pointed to data that shows a greater share of the fleet will have high-pressure, two-stroke engines that reduce methane leakage.
Chief operating officer Steve Esau pointed to estimates by classification society DNV that showed that more than half of LNG-fuelled newbuildings will have two-stroke engines, and 70% of those are high-pressure with "negligible" methane slip.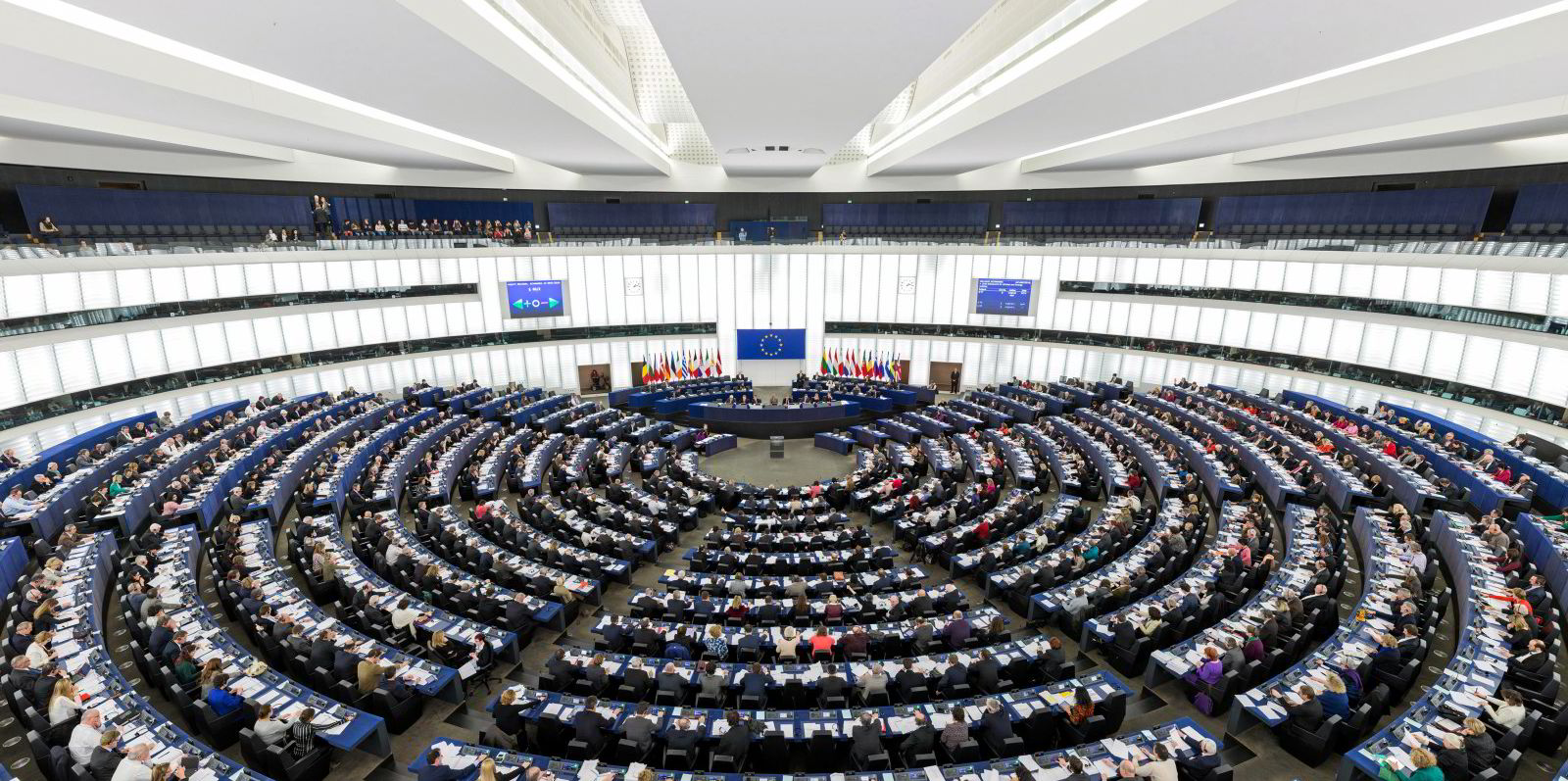 And a study by Sphera that was commissioned by SEA-LNG and The Society for Gas as a Marine Fuel projected that methane slip will be virtually eliminated for all engine types by 2030.
"By 2030, we're going to be looking at a fleet which is very, very different, using the latest technologies with predominantly limited levels of methane slip," Esau said.
"We've seen over the past 20 years or so, levels of methane slip that have been reduced by about fourfold by engine manufacturers ... and we can see that trend continuing."
Availability of renewables, at lower costs
Proponents of installing LNG fuelling technology on ships see it as a step towards eventually using fuel, such as bio-LNG, sourced from waste gas or synthetic fuel made from green hydrogen and captured carbon.
And they believe there is more potential for renewable sources for the fuel than it is getting credit for.
ICCT estimated that a maximum of 700 petajoules of bio-LNG could be available in Europe in 2030, and shipping could end up paying €216 ($215) per gigajoule, or €10,000 per tonne.
But Esau said that understates the potential supply and overstates the costs.
He said European producers are already supplying around 690 petajoules of bio-methane at a price of just €14 to €25 per gigajoule.
Hydrogen's long pathway
For SEA-LNG, it will take decades to wait for other alternative fuels.
Hydrogen is the basic building block for prospective zero-carbon fuels: green ammonia and methanol being the chief examples.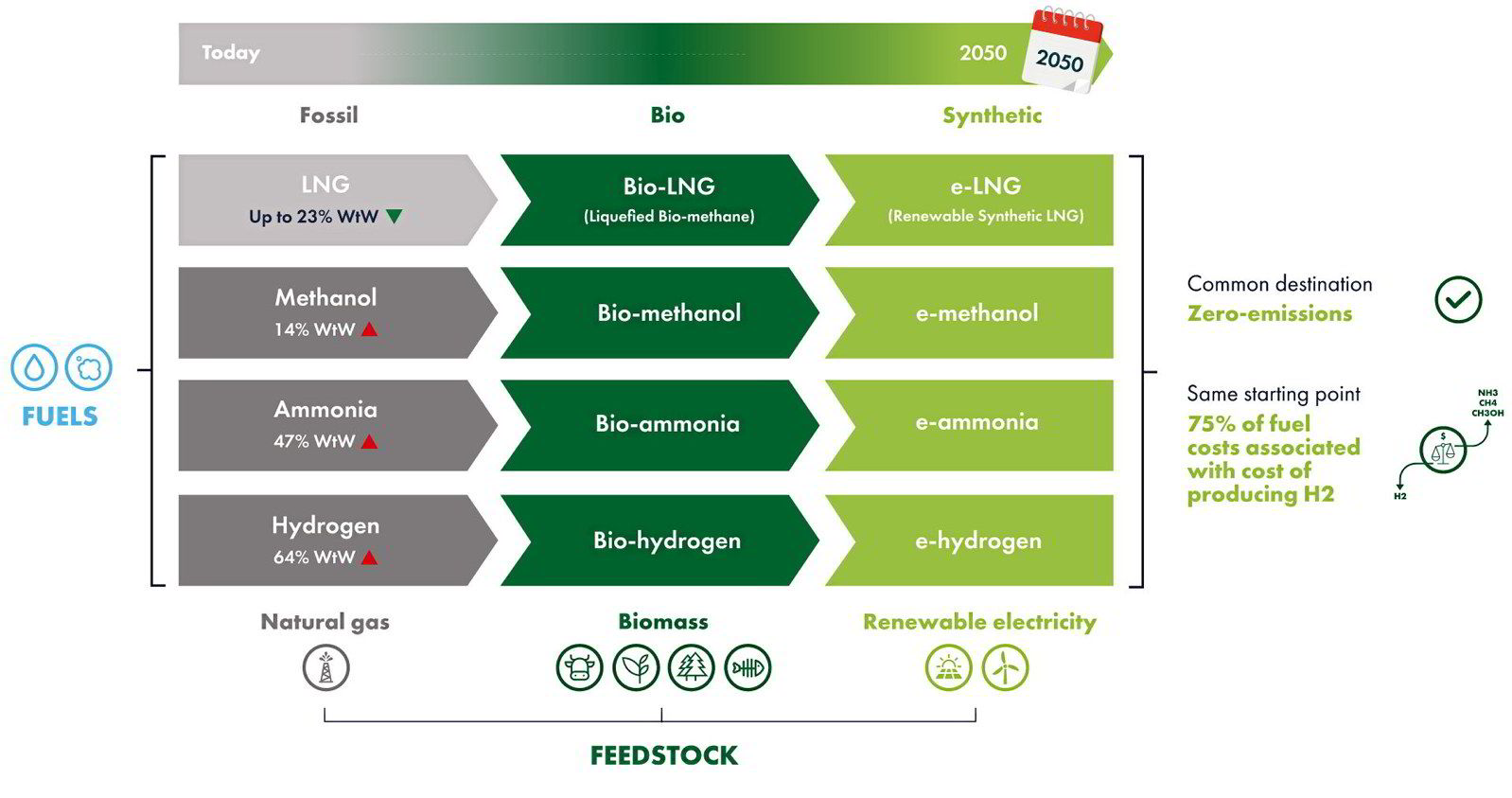 The fuels will require a common pathway that will require decades to scale up the production of green hydrogen.
Keller said shipping will then have to compete with other industries for the fuel.
"I think we all understand that maritime is very often what we refer to as tail-end Charlie — the last in line," he said.
But green hydrogen is also key to a zero-carbon path for LNG, and the fuel's proponents see renewable synthetic LNG, also called e-LNG, as an option in a basket of future fuels.
"We have always said that LNG has a pathway forward and, ultimately, it is hydrogen-based methane," Keller said.
___________________
More on environmental sustainability and the business of the ocean
Could LNG-fuelled ships become 'stranded assets' in 2030 race for zero-carbon fuels?

Shipowners looking to order LNG-fuelled newbuildings could face the risk of the vessels becoming stranded assets if policymakers push shipping towards zero-emission fuels, a new study has found.
The study by University College London's UCL Energy Institute revealed that, depending on the course that shipping's decarbonisation takes, the value at risk of being stranded could range from $129bn to $848bn in 2030.
The higher end of that risk estimate is based on several "big ifs", including the assumption that LNG-fuelled vessels cannot be retrofitted to run on zero-carbon alternatives.
"We show that if there is a large uptake of LNG-capable ships ... which is a big if, and if the shipping industry is to remain within a 1.5-degree trajectory, and this is a second big if, then, yes, indeed, there is a big value at risk of LNG fuel ships in 2030," said lead author Marie Fricaudet, a PhD student at UCL.
Click here to read the full story.
___________________
Cheniere ramps up emissions monitoring for LNG carriers

TradeWinds LNG reporter Lucy Hine reveals that shipowners chartering LNG carriers to US producer Cheniere Energy will soon be required to fit emissions monitoring equipment to their vessels as part of the company's move to provide cargo emissions tags — or CE tags — on shipments.
Speaking to TradeWinds during Gastech in Milan, Cheniere vice president of LNG chartering James Allen said nine of a fleet of about 35 chartered vessels now have methane and CO2 emissions tracking technology installed.
Allen said this will now be a requirement for owners chartering vessels to Cheniere.
Click here to read the full story.
___________________
Jan Dieleman of trading giant Cargill sets out Global Maritime Forum wishlist

The Global Maritime Forum is headed to New York for its annual summit, the main vehicle for its efforts to bring stakeholders together to tackle shipping's challenges.
The non-profit organisation has a record of turning its discussions into concrete initiatives, so what does it intend to achieve as it prepares its first full-scale summit of the post-pandemic era?
The 22 to 23 September event is built around responding to two years of dramatic change that have included a global pandemic, a major war, a supply chain crisis and pressure to tackle greenhouse gas emissions.
Chairman Jan Dieleman, who is also president of giant ship operator Cargill Ocean Transportation, hopes the summit will take steps on decarbonisation focused on ambition, action and regulation.