Until recently, publicly-listed shipping companies have been spared the shareholder votes focused on cleaning up their greenhouse gas footprints that larger corporates increasingly have increasingly faced.
But that changes with a 19 May annual general meeting at Euronav.
Stark choice
Investors are faced with a choice between two competing slates of director candidates, with one trio of candidates proposed in a bid to chart a greener course for the tanker giant than its proposed merger with Frontline that would create a crude transportation titan.
The challenge is coming from a family that's a household name in fossil fuel shipping but that has now taken a leading role in bringing zero-carbon fuels to the maritime sector.
Belgium's Saverys family, through its Compagnie Maritime Belge (CMB), wants a very different corporate merger for Euronav, one with their CMB.Tech venture, as a way to hitch the company's wagon to decarbonisation rather than more fossil fuels.
Subscribe to Green Seas
Get our weekly newsletter on sustainability, ESG and decarbonisation to stay on top of the developments as the shipping industry faces pressure to transform.
Their efforts have highlighted a conundrum faced by the world of fossil fuel shipping. There is increasing focus on decarbonisation and more broadly on environmental, social and governance (ESG) matters, but there is also a need for well-run tanker companies to crude oil for decades to come.
CMB's efforts to block the combination with John Fredriksen's Frontline may face an uphill battle after analyst scepticism and the recent thumbs down to its board candidates by leading proxy advisor Institutional Shareholder Services, although CMB chief executive Alexander Saverys has said that there is a Belgian shareholder base that may take a different view than on Euronav than US investors.
But it is worth reflecting on the boldness of their vision for Euronav: converting a $2bn business specialised in carrying carbon-heavy crude into a company at the forefront of ammonia and hydrogen-fuelled shipping.
Euronav has described CMB's proposal even more dramatically. The tanker company said in early May that the Saverys company wants the shipowner to issue shares to merge with CMB.Tech, which would be "followed by the monetisation of Euronav's existing tanker fleet in the short-term and a use of the proceeds to fund the development of CMB.Tech".
What sell-off?
CMB's proposal to shareholders and its interviews with the press do not mention a quick sell-off of the tanker fleet, according to a source with knowledge of the company's position.
But it wouldn't be the first time that a traditional shipping company made a full rotation into a clean energy play. What was once dry bulk shipowner Scorpio Bulkers, after all, is now wind turbine installation vessel specialist Eneti.

Even if CMB doesn't want to do away with Euronav's tankers quickly, the Saverys still want to chart a very different path than what the tanker owner is asking its shareholders to back with the merger with Frontline.
"Merging oil with more oil in times when every fossil fuel company needs to decarbonise — we don't think this will add any value," Alexander Saverys told TradeWinds in April.
Euronav believes the Saverys' proposed merger is unattractive because it would be dilutive and turn a mature tanker owner into a speculative, early-stage company with more diverse, capital intense interests, including a green hydrogen production plant in Namibia.
'Radical move'
"The CMB proposals call for a radical move away from the core shipping business and would transform the company into a risky venture-like business," the company said in presentation slides for its annual general meeting roadshow. "Euronav is not the appropriate vehicle to underwrite such a venture."
By contrast, the merger with Frontline would create a leading player in suezmaxes and VLCCs, unlock synergies and provide scale that could turn the combined entity's shares into a "reference stock", Euronav believes.
Plus, the Antwerp-based tanker owner is not all talk when it highlights its focus on ESG, where it is a leader among shipping companies (and would probably give a lift to the less-stellar ESG ratings of Frontline).
And if the world will be moving crude around the world for decades to come, there's a strong argument that it should carried by companies with this kind of ESG profile.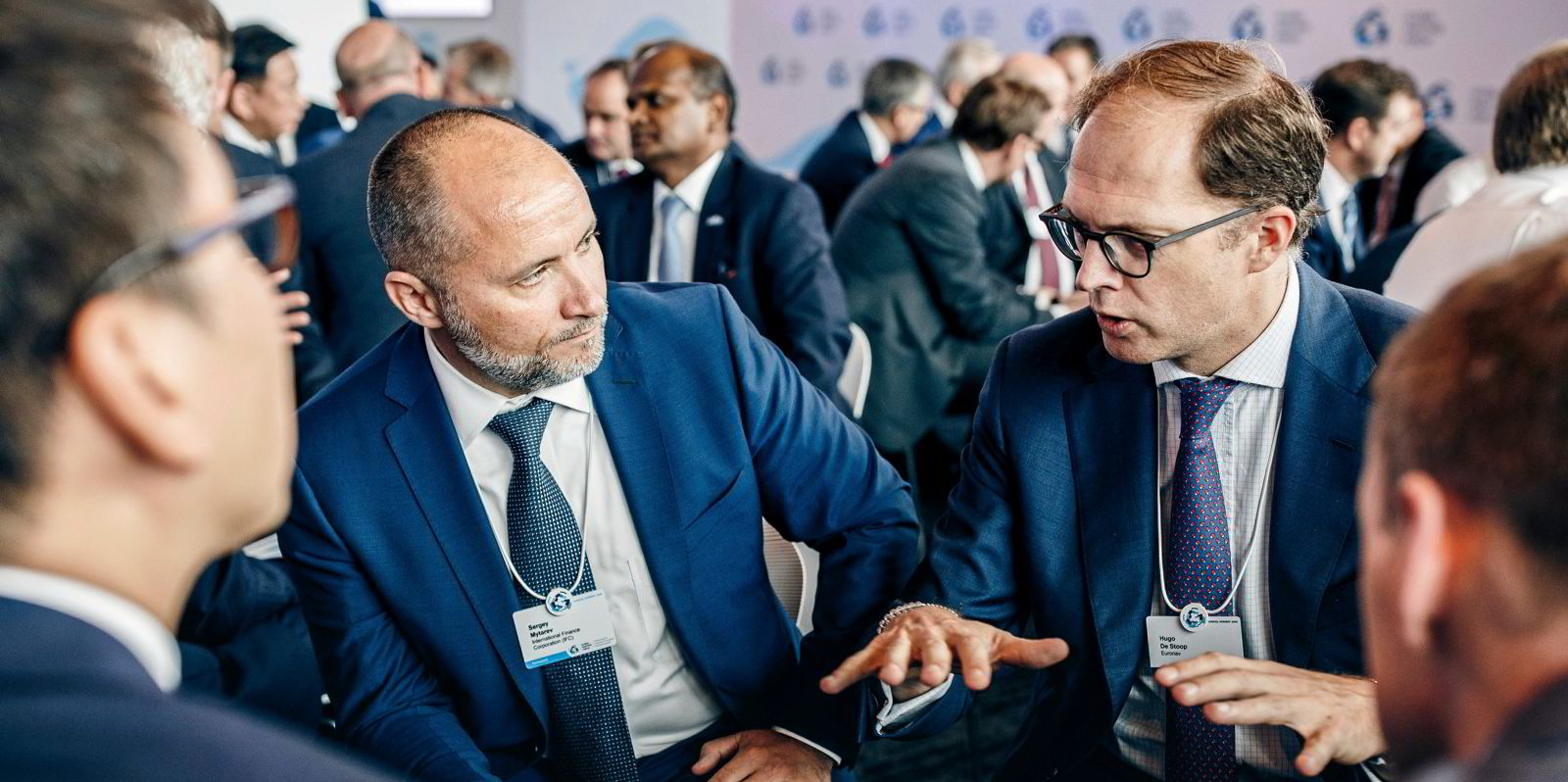 Crude oil demand is expected to peak in the next few years at more than 100m barrels per day and start a downward path. But in 2050, even if countries that have committed to net-zero carbon emissions deliver on that goal, there will still be 40m bdp in demand, according to an April report by consultancy McKinsey & Co.
As shipping faces pressure to decarbonise and if the International Maritime Organization boosts its target to zero greenhouse gas emissions in 2050, those barrels will need to be carried on vessels powered by clean fuel.
Euronav is a rare tanker company to have committed itself to net-zero in 2050.
But for now, the company sees a marriage of crude tankers and a green technology venture as akin to mixing oil and water.
More news on sustainability and the business of the ocean
Eagle Bulk Shipping has shown that going green can save money. The bulker owner has detailed interest rate margin reductions in its $400m sustainability-linked credit facility. Click here to read the story.


Greek shipowner Peter Livanos is getting into the carbon capture, utilisation and storage business, and he is not starting small. EcoLog, launched by his Ceres Shipping, is aiming for a fleet of 60 CO2 carriers. Click here to read the story (subscription required).

The Baltic Exchange, the London-based freight marketplace, is calling on the shipping industry to contribute real-world data to make the theoretical numbers of its CO2 emissions figures and Energy Efficiency Operational Indicator (EEOI) reference values more accurate. Click here to read the story (subscription required).