Two business partners from England brought Canada's Davie Shipbuilding from bankruptcy a decade ago and have breathed new life into the centuries-old builder filling contracts for Canada's military and Coast Guard.
Alex Vicefield and James Davies — co-founders of Inocea Group, an international marine, defence and industrial business — bought the yard in 2012, nearly two centuries after its founding on the St Lawrence River in Quebec.
Ten years later, they plan to enter into Canada's 2010-launched National Shipbuilding Strategy with a $10.5bn contract to build a fleet of seven ice breakers and two ferries for the Canadian government.
In addition to this 20-year deal, Davie has also secured a contract for an initial $500m to conduct major modernisation work for the Royal Canadian Navy's (RCN) fleet of 12 patrol frigates at the 580,000-square-metre yard, which Inocea bought from Teco Maritime Group.
Vicefield, chairman and chief executive at Inocea and a director at Davie Shipbuilding, said Inocea invested "several hundred" million dollars into the shipyard last year to prepare the facility for the massive contract.
"It will probably be the most modern shipyard in North America once it's completed because we'll be building ships under cover," he told TradeWinds.
Vicefield said Inocea proved that Davie Shipbuilding could apply commercial expertise to military vessel construction when its Federal Fleet Services turned the 23,792-dwt container ship Asterix (built 2009) into an auxiliary oiler replenishment vessel for the RCN.
"We had a eureka moment where we realised we could convert a commercial container ship into a combat support ship," he said. "Because we come from the commercial shipping and oil and gas market, we've taken a lot of the things we've learned in that, and we've used it now in the military world."
Inocea, which financed and owns the ship, charters it to the RCN and also provides a merchant-marine crew that it trained to run the military vessel. Davie Shipbuilding carried out the conversion from 2015 to 2017.
"From the naval perspective, a lot of people said it's not possible because they don't have a grasp of what it's like in the commercial shipping world, and the risks that the people in the commercial shipping world need to take to be competitive," Vicefield said.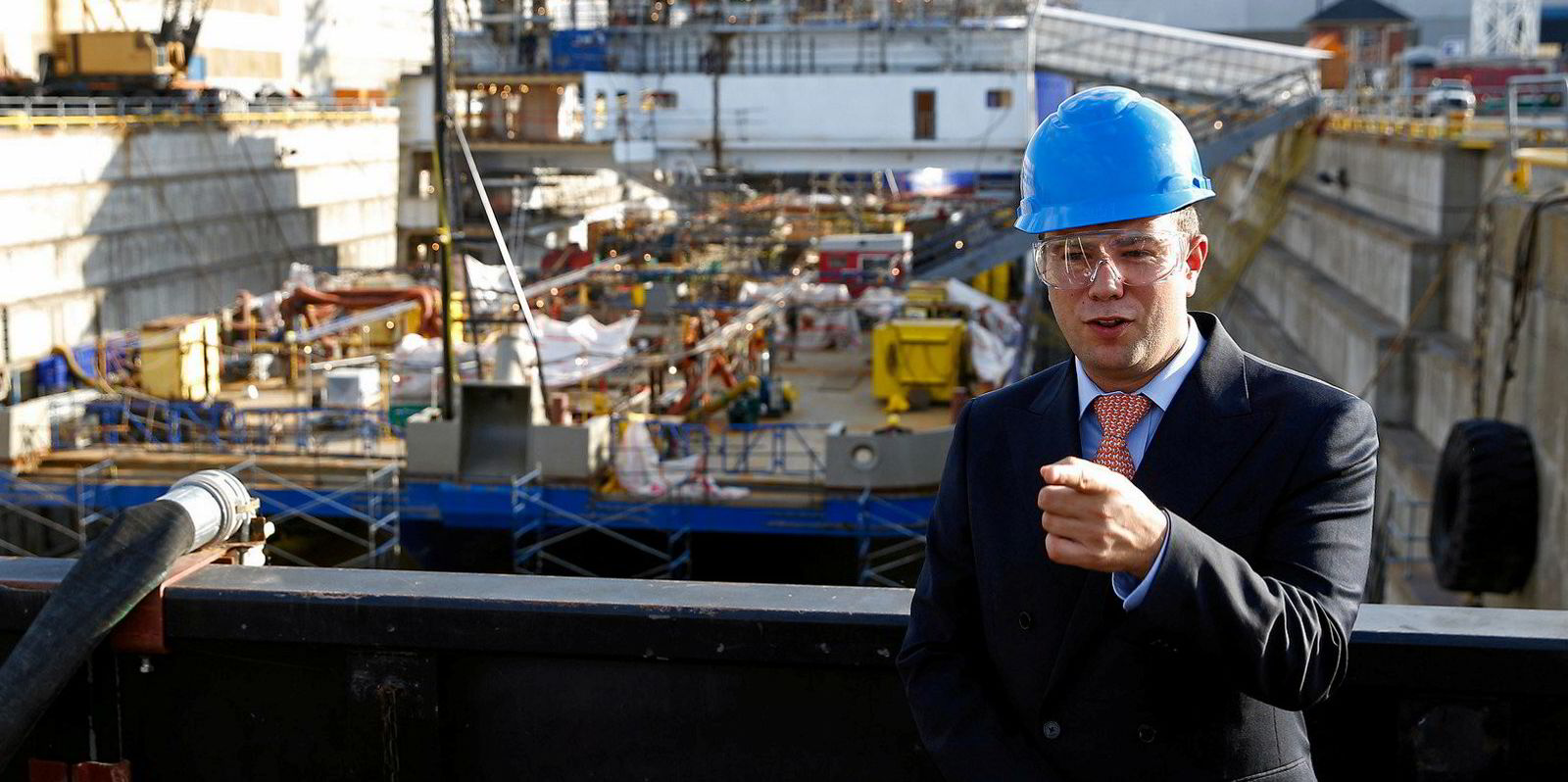 In August 2022, the government of Canada announced an initial two-year extension to the chartering contract for Asterix. Thereafter, Canada has the option to continue the service into future years or buy the vessel.
Before that, the yard successfully took over and completed an unfinished contract to build the subsea construction vessel Cecon Pride and deliver it to the Norwegian oilfield services company Cecon in 2014.
"The reason that Davie was able to do that was because its history was in making complex ships," said Inocea co-founder and Davie Shipbuilding president and chief executive, Davies.
The yard then built two LNG-powered ice-breaking ropax ferries — the 2,500-gt Armand Imbeau II and 5,000-gt Jos Deschenes II — for government-run ferry operator Societe des Traversiers du Quebec and delivered them in 2017.
Davies said Davie Shipbuilding's current commercial endeavours entail conducting research and development on using synthetic fuels to propel the power plants on lakers that carry goods on the Great Lakes and the St Lawrence Seaway.
But he said that is just the tip of the iceberg when it comes to his long-term aspirations to build ships for the thriving global commercial sector while also helping to decarbonise the industry.
"We have so much in our industry to do," Davies said. "This is more of a call to arms."
Vicefield said Davie Shipbuilding also plans to build expedition cruise ships, given its ability to construct very complex vessels that can operate in harsh Arctic conditions.
"You don't want anything to go wrong on those ships, right?" he said.