In 1967, a converted Liberty Ship called the Sturgis was towed to what was then part of the US-controlled Panama Canal Zone.
When it was connected to shore, it began supplying 10 MW of electricity for civilian and military purposes, making it the first floating nuclear power plant in operation.
Fast forward more than a half-century, and floating nuclear power plants are back on the agenda for the maritime sector, as small modular reactors offer the prospect that the vessels could provide emissions-free power to remote islands, coastal grids hit by natural disasters or military installations.
Subscribe to the Green Seas podcast
The latest to emerge is a design by shipyard titan HD Korea Shipbuilding & Offshore Engineering (HD KSOE) and Kepco Engineering & Construction.
Classification society American Bureau of Shipping announced approval-in-principle for the design on Tuesday in a project that also included the Liberian International Ship & Corporate Registry.
That came after TradeWinds reported in September that US maritime conglomerate Crowley has teamed up with BWX Technologies (BWXT) to work on a concept for a shallow-draught nuclear generation vessel designed to deliver 5 to 50 MW of power to shore.
They envision government and military customers, with the vessel potentially serving remote bases in the South Pacific or stepping in with power for coastal communities recovering from disasters.
Both projects have the involvement of companies that are working to develop small modular reactors that underpin these designs.
The Bandi
Kepco E&C, a unit of South Korea's largest electric utility and one of the world's largest operators of nuclear power plants, has developed the Bandi small modular reactor. HD KSOE, the main shipbuilding unit of South Korean heavy industries giant HD Hyundai, has pumped $30m into TerraPower, which is developing a molten salt reactor.
For its part, nuclear technology company BWXT has a contract to provide the US Defense Department with the first advanced microreactor in the US, with the prototype to be completed in 2024 for testing at the Idaho National Laboratory.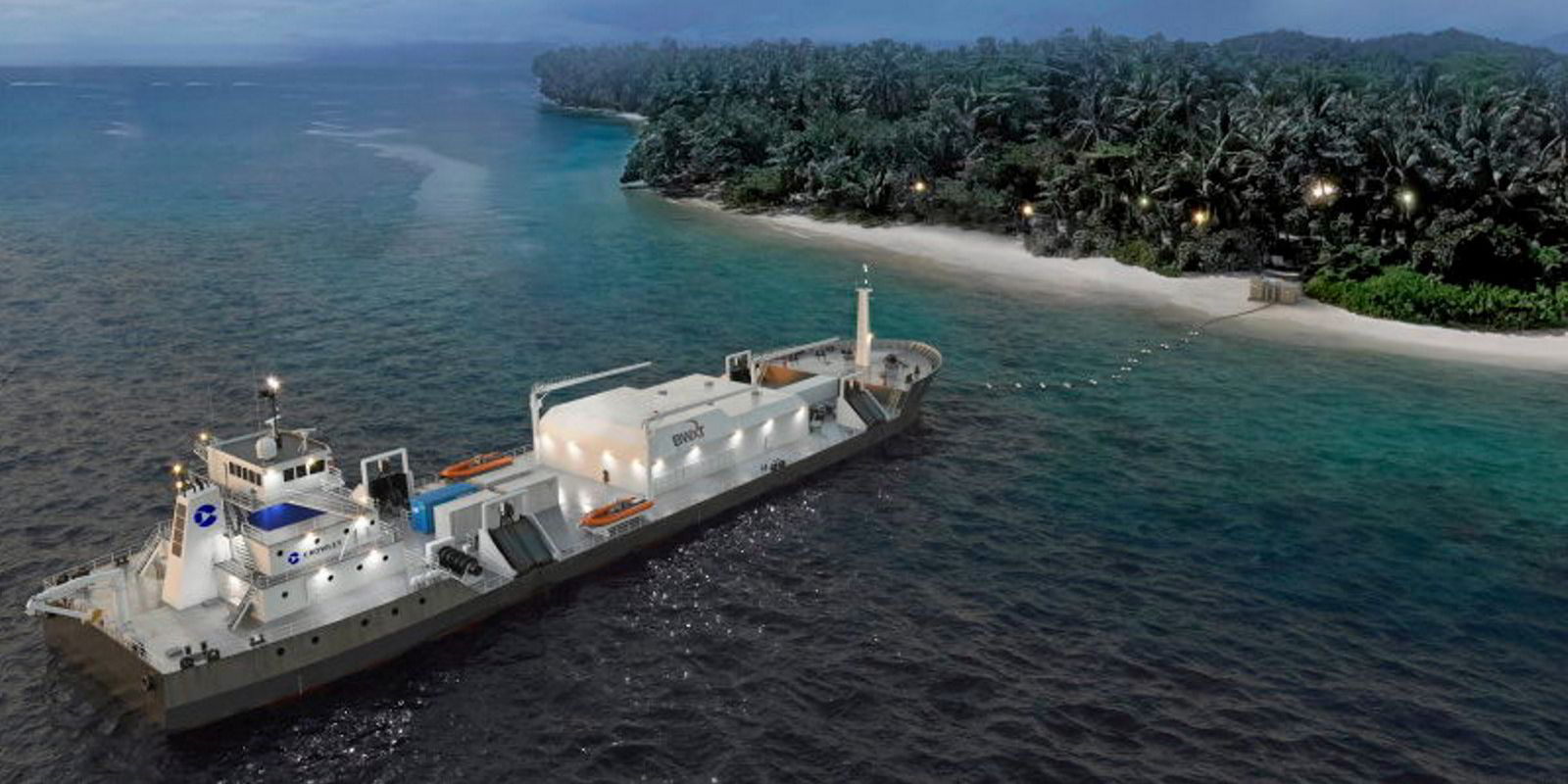 Joe Miller, president of BWXT Advanced Technologies, told TradeWinds the type of high-temperature, gas reactor technology has been around for decades, and developing it into a standardised, small reactor format allows the technology to take on new missions.
"When we think about microreactors, and we think about the different use cases, having that standard design gives us a magnitude of influence across a variety of different end users," he said. "We can address those right now. We need to address a lot of these missions immediately."
ABS chief technology officer Patrick Ryan, whose classification society also gave approval in principle in January to shipbuilder Samsung Heavy Industries and Denmark's Seaborg Technologies for a floating nuclear power barge, said modern nuclear technologies are increasingly seen as a way to tackle greenhouse gas emissions.
"Floating production platforms like this barge from HD KSOE have the possibility to scale more easily than what can be done on land," he said in a statement.
Kim Sung-Jun, director of future technology at HD KSOE, sees uses for the floating nuclear power plants beyond powering electricity grids.
Zero-carbon fuels of the future can also be produced with electricity, through a process called electrolysis that produces green hydrogen from water.
Green fuel enabler?
"This barge design not only eliminates the inconvenience of selecting onshore sites by being installed at sea but also offers the advantage of an integrated design for thermal energy production," he said in a statement.
"This increases the potential to support the production of eco-friendly ship fuels like ammonia or methanol."
The prospects of deploying floating nuclear power plants will undoubtedly find critics, with environmental groups pointing to high-profile incidents like the Fukushima nuclear accident in 2011.
But BWXT's Miller said nuclear technology has been part of naval architecture in many countries for some time, and any safety concerns will be dealt with as the company's barge concept with Crowley progresses.
"It's very well-understood technology, and being able to apply the safety considerations that are specific to the maritime application, and being able to apply that to nuclear, is something that we will be working [on] with Crowley and will be very transparent," he said.
________________
Carbon-neutral 'breakthrough': Cargill, Minerva and team design bulker ready for wind and methanol
Dry bulk giant Cargill and a team of partners have designed a kamsarmax bulker that will be ready to accommodate both methanol fuel and wind propulsion.
The US commodities player's Cargill International unit has teamed up with Greek shipowner Minerva Dry, classification society Lloyd's Register and Chinese yard group Nantong Cosco KHI Ship Engineering (Nacks) to develop the design.
Cargill has taken a leading role in powering bulkers of this size with wind-assisted propulsion and in methanol by ordering the first bulker powered by the fuel.
________________
Podcast: Are electric cars getting a bad rap in ship fires?
When a fire strikes a car carrier, the first question asked is often whether it was started by an electric vehicle. But while the growth of electric car shipping and the hazards of lithium-ion batteries do require special measures for vessels, a growing body of evidence suggests they may not be more dangerous than conventional vehicles.
The Green Seas podcast talks to Hoegh Autoliners chief executive Andreas Engers, as well as International Maritime Organization senior technical officer Bingbing Song and maritime safety division director Heike Deggim, about the measures underway to make vehicle shipping safer.
________________
Russia ramps up risks with non-ice class ships on Arctic route, says Poten & Partners
Russia appears "willing to compromise safety" by using non-ice class tankers to increase oil flows through the Arctic, warns shipbroker Poten & Partners, as TradeWinds' Dale Wainwright reports.
Moscow has accelerated oil shipments to China via the Northern Sea Route in the face of sanctions and the resulting shift in export destinations.
The route is about 3,500 miles (5,600 km) long, defined by Russia as running from the entrance to the Novaya Zemlya straits in the west, along the Russian Arctic coast above Siberia to Cape Zhelaniya on the Bering Strait.
A journey from the Barents Sea to the port of Rizhao in China via the NSR takes 35 days, which is 10 days less than the alternative southern route from the Baltic through the Suez Canal.
Poten said the potential for time and fuel savings is "significant". However, there are "limitations and risks".