Seoul has reportedly called on Iran to release a South Korea-flagged tanker that was seized by the country's navy forces in the Strait of Hormuz.
Earlier on Monday, security sources said Iran arrested the 17,400-dwt Hankuk Chemi (built 2000) when the ship was heading toward Fujairah in the United Arab Emirates.
The DM Shipping-operated handysize had been underway eastbound at 12.5 knots prior to the incident from the Petroleum Chemical Quay in Jubail, Saudi Arabia.
In a statement cited by Yonhap, the South Korean government said: "The foreign ministry and the South Korean embassy in Iran have learned that the crews are safe, and are requesting the early release of the ship."
The country's anti-piracy Cheonghae unit, which began to operate in the Middle East in early 2020, is moving toward the scene and plans to respond in cooperation with a multinational naval force in nearby waters.
Reporting body UK Maritime Trade Operations (UKMTO) said it was aware of an "interaction" between a merchant vessel and Iranian authorities.
"As a consequence of this interaction, the merchant vessel made an alteration of course north and proceeded into Iranian territorial waters," UKMTO said.
Security consultancy Ambrey said the small chemical tanker appears to have been seized 16.6 nautical miles (31 km) south-west of the Strait of Hormuz traffic separation scheme.
Iranian media reported that the country's elite Revolutionary Guards (IRGC) seized a South Korean ship "for polluting the Persian Gulf with chemicals".
Imagery released by Iranian news agencies has indicated at least five Iranian patrol boats were involved in the incident.
But DM Shipping denied that the vessel polluted waters in the region, Yonhap reported.
AFP reported that hours earlier that the Iranian government had said a South Korean diplomat was due to travel to Tehran to negotiate over billions of dollars in Iranian assets now frozen in South Korea.
It is understood that since September 2019, two South Korean banks have held approximately $7bn in frozen Iranian assets, Ambrey added.
Iran has said it will hand over the vessel to judicial authorities for legal proceedings.
Heading towards Bandar Abbas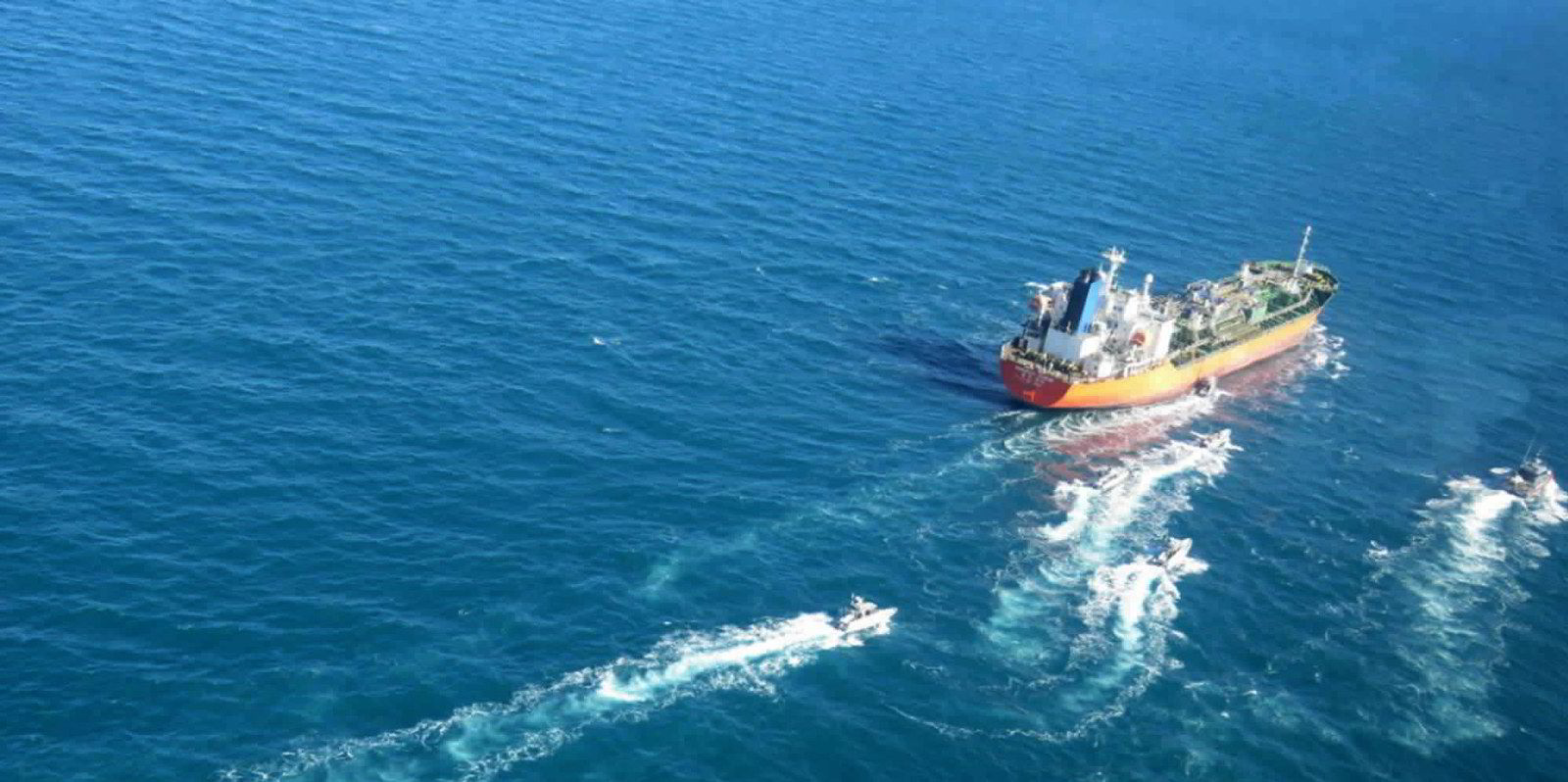 Ambrey has tracked the tanker inside Iranian waters headed towards Bandar Abbas.
The last AIS update from the ship came 22 hours ago in the Middle East Gulf.
The vessel has a crew of 23. Iranian media said they were from South Korea, Indonesia, Myanmar and Vietnam.
"This latest incident comes at a time of increased tension throughout the region," security company Dryad Global said.
It follows the discovery of a limpet mine on 31 December on the hull of the 150,000-dwt suezmax tanker Pola (built 2011) at Al Basrah Oil Terminal in Iraq.
Previous history
"The placement of mines and the detention of vessels within the Persian Gulf and Gulf of Oman is activity previously attributed to Iranian forces," Dryad added.
"The IRGC and wider Iranian forces have a well-established practice of combining both attributable and non-attributable activity to control security narratives in the region."
Dryad said that by creating conditions of insecurity, Iran seeks to destabilise existing rules of law and order, challenging the Saudi and US coalitions which militarily control much of the Middle East.
South Korean government and DM Shipping could not immediately be contacted.
Incidents involving Iranian forces and commercial ships were rife in 2019.
The highest-profile among them was the detention of the UK-flagged 50,000-dwt tanker Stena Impero (built 2019) for two months in ostensible retaliation for the UK seizing the 300,000-dwt Adrian Darya 1 (built 1997) in Gibraltar.
Fewer incidents last year
In 2020, incidents were fewer and further between.
In November, the IRGC reportedly seized a Panamanian-flagged tanker over allegations it was smuggling oil.
The unnamed ship was detained in the Middle East Gulf. It was allegedly transporting 300 tonnes of illegal oil.
Earlier last year, Iranian forces reportedly boarded the 8,055-dwt Wila (built 1997).
This incident was said to be retaliation for the Wila's Greek ownership interests turning over to US authorities Iranian gasoline originally en route to Venezuela.
The ship appeared to be detained only briefly before reappearing in UAE territorial waters.
The latest incident came amid heightened geopolitical tension between Iran and the US, South Korea's top military ally that is undergoing a bumpy transition of power.
US president Donald Trump , who lost his reelection bid in November, shows no signs of abandoning the "maximum pressure" campaign against Tehran as he leaves office.
The Trump administration has added dozens of Iranian companies to its blacklist, including several shipping outfits and vessels.